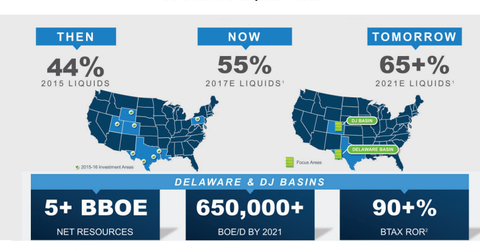 Anadarko Petroleum's Key Focus: US Onshore Operations
By Keisha Bandz

Apr. 12 2017, Published 2:57 p.m. ET
US onshore liquids focus
Anadarko Petroleum's (APC) capex budget for its US onshore operations is $1.9 billion, or 41% of its 2017 capex.
APC noted in its 4Q16 earnings release, "During 2016, Anadarko high-graded its U.S. onshore portfolio by divesting a number of natural-gas-weighted assets and concentrating its top-tier positions in the Delaware and DJ basins, which resulted in an expected 25-percent increase in liquids composition from the U.S. onshore relative to 2015 on a same-store-sales basis."
The image above notes the anticipated change in liquids compositions in the DJ Basin and Delaware Basin between 2015–2021.
In 2017, APC plans to spend ~$820 million in the Delaware Basin. An additional $560 million in capital could be allocated toward the expansion of its midstream operations to support future growth. The company plans to invest $840 million in the DJ Basin in 2017.
Article continues below advertisement
Management comments
APC's CEO, R.A. Walker, noted in the company's March 7, 2017, press release, "We expect our current 2017 U.S. onshore capital allocation to deliver significant oil growth toward the end of the year as we overcome the effects of last year's reduced activity levels on our shorter-cycle onshore opportunities.
"We anticipate achieving an exit rate of approximately 50,000 barrels of oil per day in the Delaware Basin, which is more than 80-percent higher than 2016, and in the DJ Basin, we expect our oil-production exit rate to be about 100,000 barrels per day, a 30-percent increase over the prior year."