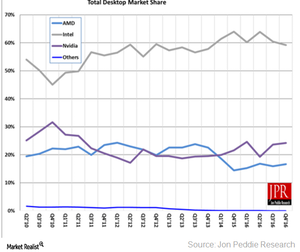 An Update on AMD's Licensing Business
By Puja Tayal

Updated
AMD's licensing business
In the previous part of the series, we saw that Advanced Micro Devices (AMD) is looking to reduce its debt and increase its cash flow through debt restructuring and margin improvements. 
AMD is also looking to increase its cash flows by monetizing its intellectual property through licensing.
In April 2016, AMD entered into a joint venture with China's (FXI) Tianjin Haiguang Advanced Technology Investment to license its x86 server chip to the latter. By the end of fiscal 2016, AMD had secured a licensing gain of $88 million, which helped it to partially offset its operating losses. It expects to gain $50 million from this licensing in fiscal 2017.
The company is looking to enter into more licensing deals to increase its cash flows and repay its debt.
Article continues below advertisement
AMD's patent lawsuits
In January 2017, AMD filed civil lawsuits against LG, Vizio, MediaTek, and Sigma Designs for infringing on three generic-looking graphics patents owned by ATI, which AMD had acquired in 2006. These patent lawsuits were approved by the US International Trade Commission on March 20, 2017, after which AMD's stock rose almost 7% in just one day.
Rumors of AMD-Intel licensing deal may not materialize
Rumors recently surfaced that Intel (INTC) was likely to enter into a GPU (graphics processing unit) licensing deal with AMD after its licensing deal with NVIDIA (NVDA) expired in March 2017. All rumors cited a Bloomberg report, which was nowhere to be found on Bloomberg's site.
Even analysts listed the possible opportunities for AMD and Intel if they were to enter into a GPU licensing deal. FBR Capital Markets analyst Christopher Rolland stated that Intel could use AMD's licensing deal as a defense in the event that NVIDIA filed a lawsuit to renew its cross-licensing agreement. He further added that Intel could use AMD's high-performance GPUs in the data center and high-performance PC (personal computer) spaces.
However, an AMD-Intel licensing deal is unlikely. The only thing that differentiates AMD from Intel is its discrete GPUs, and AMD would no longer be able to compete with Intel if it licensed its GPU to the latter.
Intel also has the right to access any of NVIDIA's patents filed until March 31, 2017, meaning Intel can continue to use NVIDIA's GPU technology until each GPU's patent expires. This could be as many as 20 years down the road for recently-granted patents.
Despite this, even the slightest possibility of an Intel-AMD licensing deal has sent AMD's shares soaring. Next, we'll look at AMD's stock performance.