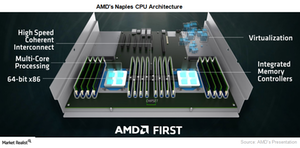 AMD's Naples Looks to Make a Mark in the Data Center Market
By Puja Tayal

Apr. 28 2017, Updated 9:05 a.m. ET
AMD's data center business
In the previous part of this series, we looked at the semi-custom and virtual reality market, where Advanced Micro Devices (AMD) is already a leader and is making efforts to maintain its leadership. AMD is also looking to tap some share of the data center market, which is dominated by Intel (INTC) and its share in excess of 99%.
AMD plans to launch its Zen-based Naples CPU[1. central processing unit] for servers by the end of 2Q17. Naples is expected to compete with Intel's Purley Platform based on its Skylake architecture. AMD has also appointed Dell's Forrest Norrod to drive its server chip efforts.
Article continues below advertisement
AMD's Naples CPU at a glance
AMD's Naples is expected to feature 32 cores and eight DDR4 (double data rate) memory channels per chip compared with Intel's Purley CPU, which is expected to feature 28 cores and six DDR4 memory channels per chip. Naples can be scaled across the cloud data center and traditional enterprise servers.
Naples's high memory content and high-speed input and output channels differentiate it from Intel's current offerings in the server space. In the single-core performance test, Naples outperformed Intel's comparable 22 core Broadwell E5-2699 V4 by 29%.
Could AMD's Naples compete with Intel's Skylake?
However, Geekbench's database has a different story to tell. Intel made its Skylake server chips available to Google (GOOG) on a limited basis for the latter's Cloud NEXT '17 service, which was released on March 8, 2017.
Wccftech studied the benchmark results that Google posted on Geekbench, finding that Intel's Skylake-EP Xeon CPU has 32 cores and has countered Naples's claimed performance advantages. While Skylake has equaled the core count, it lags behind Naples in terms of memory. Skylake has just six DDR4 memory channels per chip compared to Naples's eight.
Although Naples has outperformed Intel's Broadwell Xeon, Intel has moved one step ahead with its Skylake Xeon. Under such a scenario, pricing would become the deciding factor.
AMD's data center partnership with Microsoft
In an effort to gain market share, AMD has partnered with Microsoft (MSFT) to use the Naples CPU in the latter's Project Olympus, an open source cloud hardware design project. In the OCP (Open Compute Project) initiative, AMD would incorporate performance, scalability, and efficiency required by the cloud in its Naples CPUs.
As the OCP makes the design specifications available to the public, AMD would not earn any profits from this initiative. However, it would help AMD create a standard for cloud computing. Nvidia (NVDA) has also joined the OCP initiative for a similar reason.
Not only is AMD targeting general data center applications, but it is also targeting the AI (artificial intelligence) market currently dominated by Nvidia. We'll look at AMD's efforts in the AI space in the next part of this series.