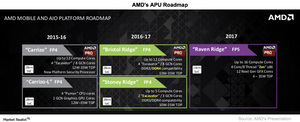 AMD's All-in-One Platform Roadmap Leaked
By Puja Tayal

Updated
All-in-one platform roadmap
Advanced Micro Devices (AMD) is leveraging its Ryzen CPUs[1. central processing units] and Vega GPUs[2. graphics processing units] in the desktop, notebook, and server space. The company would also leverage these chips to build AIO (all-in-one) platforms. It's most anticipated Raven Ridge APU[3. application processing unit] is set to arrive later in 2017.
According to wccftech, Raven Ridge would be followed by Pinnacle Ridge CPUs in early 2018 and Gray Hawk CPUs in 2019.
Article continues below advertisement
Raven Ridge APUs
AMD's Raven Ridge APUs would comprise four Zen cores and up to 11 Vega cores, and it would have 704 stream processors. The APU would have eight threads with the SMT (simultaneous multithreading) feature. There is a possibility that Raven Ridge may feature enhanced Zen cores that would support the improvements in its Zen 2 cores.
Raven Ridge would support AM4 and according to wccftech, AMD would use the AM4 motherboard for Zen and its future Zen upgrades until 2020. The GPUs used in Raven Ridge are expected to have a modest improvement in integrated graphics.
AMD is expected to first launch Raven Ridge APUs for laptops and notebooks in 2H17 for ~$250. This would be followed by Raven Ridge APUs for desktops in 2018.
Apple (AAPL) currently sources all its CPUs for iMacs and MacBooks from Intel (INTC). There are rumors that Apple may switch or second-source the processors for its MacBook from AMD. Many analysts believe that Raven Ridge is an ideal APU for Apple's lightweight MacAir notebooks.
Pinnacle Ridge CPUs 
A Chinese (FXI) website posted a leaked AMD roadmap for 2017 and 2018 on Videocardz. This roadmap indicates that after Ryzen, AMD plans to launch Pinnacle Ridge CPU in early 2018. The Pinnacle Ridge CPU would be targeted at enterprises and enthusiasts that require higher performance. The CPU may maintain the TDP (thermal design power) at 95 watts, similar to that of Ryzen.
The Pinnacle Ridge CPU is expected to have eight Zen cores. There is a possibility that these cores would be based on the advanced Zen 2 architecture. Zen achieved a 52% higher IPC (instructions per clock) compared to its predecessor Excavator. Zen 2 is expected to clock 60%–65% higher than Excavator. Zen 2 is likely to be more optimized and refined than Ryzen, as AMD could resolve the issues related to single-thread performance.
Future Zen upgrades may be compatible with higher clocked DDR4 (double data rate) memory and lower CPU clock speeds. AMD may also make improvements in process nodes to improve the clock speed of Zen. There is another rumor that AMD is looking to try its hand at mobile architecture. We'll look into this topic in the next part.