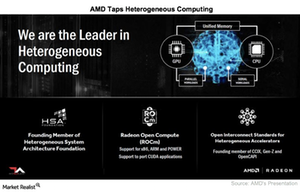 AMD Uses Heterogeneous Systems Architecture to Tap Machine Intelligence
By Puja Tayal

Apr. 28 2017, Updated 10:35 a.m. ET
Heterogeneous computing
Advanced Micro Devices (AMD) is scaling its Naples CPUs[1. central processing units] across the cloud data center and traditional enterprise servers. The data center market is moving toward MI (machine intelligence), and Nvidia (NVDA) is at the forefront of this trend with its Tesla GPUs.[2. graphics processing units] AMD is also moving quickly in this space by creating HSA (Heterogeneous Systems Architecture).
Article continues below advertisement
In heterogeneous computing, a variety of processors and accelerators are used to incorporate specialized processing capabilities for different types of workloads. In HSA, different accelerators facilitate parallel processing for particular workloads. This entire architecture is backed by a compatible software platform.
AMD is looking to leverage its portfolio of high-performance CPUs and GPUs to develop platforms that support heterogeneous computing. It also offers the MIOpen machine intelligence library, which enables developers to write applications for these accelerators. The library supports popular languages such as Python and C++.
AMD's Radeon Instinct accelerators
AMD would introduce several accelerators that support heterogeneous computing under its Radeon Instinct brand. It plans to launch MI6, MI8, and MI25 accelerators in 2017. Each of these accelerators would blend various CPU and GPU technologies to support particular workloads.
Article continues below advertisement
AMD's accelerators: A fusion of GPU, DSP, and CPU
The HSA integrates CPU with GPU and DSP (digital signal processing) accelerators in a way that gives all computing elements complete access to the system's memory, according to a 2015 report on HSA specifications. DSPs are generally used in FPGAs (field-programmable gate arrays). If AMD adopts the HSA, there's a possibility that it may offer FPGAs in the future.
AMD could integrate its Vega GPUs with its server-class Naples CPUs in its Radeon Instinct accelerators. Later, the company may create a new CPU architecture only for heterogeneous computing. The combination of CPUs and GPUs could significantly reduce the system cost for customers and make it popular in the gaming, high-performance computing, and machine learning applications.
Why does Intel favor FPGAs?
While AMD is looking to offer both GPUs and FPGAs, Intel (INTC) is only focusing on FPGAs to expand in the MI market. Intel is working on making FPGAs viable alternatives for GPUs.
GPUs are used for general-purpose tasks, whereas FPGAs are programmable for specific tasks. Intel's FPGAs have outperformed GPUs in the data center space to some extent. If Intel succeeds in replacing GPUs with FPGAs, it could gain a significant market share in MI. FPGAs can also be used in devices ranging from large-size servers to small-size embedded devices.
Next, we'll look at other desktop and server products that AMD is expected to launch in 2017 and 2018.