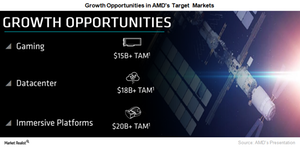 AMD Investors Eye Virtual Reality, Gaming Capabilities
By Puja Tayal

Updated
AMD turns its disadvantage to an advantage
Advanced Micro Devices (AMD) has generated some talk with its new product launches, strong growth in its stock price, and a comeback in the high-end chip market. This turnaround happened under the leadership of AMD's president and chief executive officer, Lisa Su.
Advanced Micro Devices is the only company that offers both CPUs (central processing units) and GPUs (graphics processing units) and that has both ARM and x86 CPU architecture. This broad portfolio was once its disadvantage. 
Article continues below advertisement
AMD's rivals Intel (INTC) in the CPU market and Nvidia (NVDA) in the GPU market have strong cash reserves to develop advanced products in their respective markets. However, AMD's limited cash was scattered across a broad portfolio. Advanced Micro Devices is turning this disadvantage to an advantage by tapping high-growth markets and developing integrated solutions.
AMD's target markets
Advanced Micro Devices (AMD) is focusing on the fast-growing markets of gaming, data center, and virtual reality. These three markets present a $53 billion opportunity for AMD.
Article continues below advertisement
Gaming
Within the gaming market, Advanced Micro Devices is looking to offer its Vega GPUs to gaming enthusiasts and its Polaris GPUs to mainstream gamers. AMD would also power Microsoft's (MSFT) new Xbox Scorpio and Sony's new PlayStation 4.5 gaming consoles with its APUs (application processing units). With the advent of VR (virtual reality) in gaming, AMD looks to develop advanced VR headsets.
Immersive platforms
Advanced Micro Devices (AMD) is looking to bring VR closer to reality, which would require high-end graphics, memory, and high processing power. So, the company is developing the Raven Ridge APU that would combine the Ryzen CPU and the Vega GPU. AMD recently acquired wireless VR chip manufacturer Nitero to get rid of the wires attached to the VR headset. With all these efforts, AMD aims to become a leader in the VR space.
AMD is targeting all its research and development efforts on the above three markets. In this series, we'll look at the company's end markets and its efforts in each of these markets.