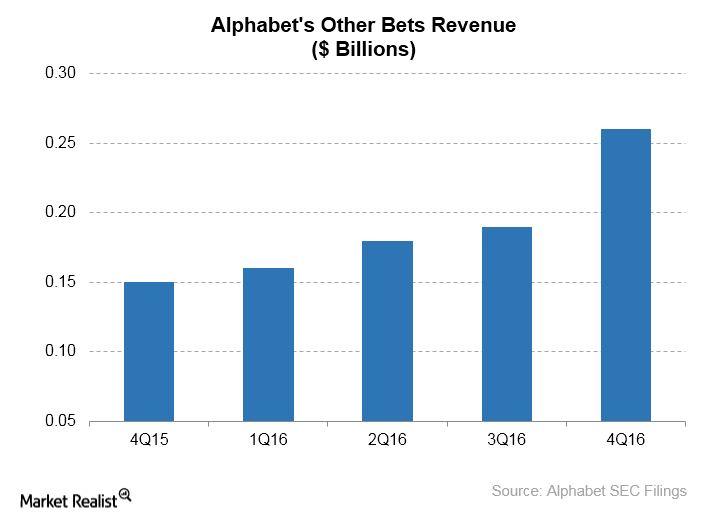 Alphabet's 1Q17 Earnings Announcement: Eyes Are on Other Bets
By Neha Gupta

Apr. 18 2017, Updated 7:35 a.m. ET
Breaking its overreliance on ad revenue
Alphabet's (GOOGL) Other Bets initiatives are a source of hope and worry for the company's investors. If successful, Other Bets, which include initiatives such as autonomous driving business Waymo and cable Internet operation Google Fiber, could bring significant new revenue to Alphabet and wean it from digital advertising budgets. However, if they fail, they could leave the company with a huge financial gap and dim its growth prospects as companies such as Facebook (FB) and Snap (SNAP) have intensified the competition for online advertising dollars.
Article continues below advertisement
Other Bets questions
In Alphabet's last quarterly report in 4Q16, Other Bets revenue increased to $262.0 million from $150.0 million a year earlier, as illustrated in the above chart. Other Bets operating losses fell to less than $1.1 billion from more than $1.2 billion in the prior year. Did Other Bets revenue growth stall after 4Q16 or has it continued? Are Other Bets losses shrinking or ballooning? These are some of the questions investors will be seeking answers to as Alphabet reports 1Q17.
Waymo and Google Home in the spotlight
In the upcoming report, investors want to see more than just signs of growth in Other Bets businesses. They are also interested in seeing growth accelerate due to recent developments in Other Bets, such as the separation of autonomous driving operations into Waymo, a standalone branch. The first quarter of 2017 will be Alphabet's first quarterly report since it created Waymo.
After being spun off from its parent, Waymo showed off a self-driving vehicle developed in partnership with Fiat Chrysler (FCAU). In Alphabet's 1Q17 report, investors will be looking for an indication that Waymo is ready for commercialization and hints at what kind of impact it could have on Alphabet's top and bottom lines. Investors will also be looking for clues on how Google Home is progressing against Amazon's (AMZN) Echo, given recent updates that increase the device's consumer appeal.