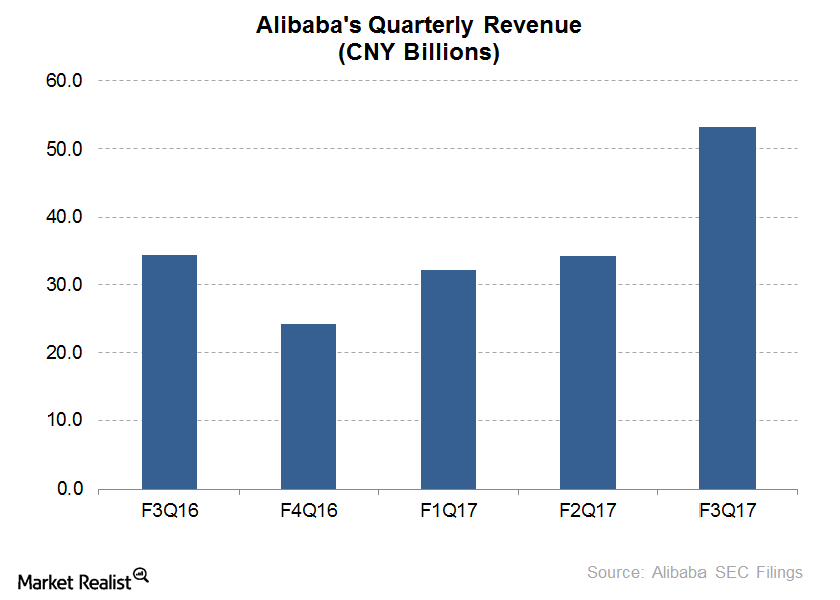 Alibaba's Response to Counterfeit Goods Claims
Alibaba isn't happy about frequent counterfeit claims
Alibaba (BABA) seems to be countering the widely held belief that its online marketplaces such as Taobao are teeming with counterfeit goods. In late 2016, the United States once again blacklisted Taobao as a marketplace where goods that violate IP (intellectual property) rights are readily available.
The above graph shows Alibaba's revenue trend for the last several years.
Alibaba recently claimed that some agencies operating in its marketplaces have been acting maliciously. It singled out Hangzhou Wangwei Technology, an IP agency. It said Hangzhou was notorious for bringing false IP infringement claims against Alibaba's vendors.
Article continues below advertisement
60% of claims withdrawn
To prove its point that Hangzhou was maliciously portraying its marketplaces as dens of fake goods, Alibaba said Hangzhou has withdrawn more than 60.0% of the complaints it filed since 2015 after vendors successfully fought its allegations.
Although brands use IP agencies to help them protect their IP rights by identifying infringements, Alibaba has asked them to avoid using Hangzhou.
Winning customer trust
Several companies have boycotted Alibaba's marketplaces due to widespread claims of counterfeited brands. Such customer outflow could cost Alibaba its reputation and revenues. The company is in tough competition with JD.com (JD) in China and Amazon (AMZN) and others internationally.
If Alibaba can't make vendors trust it to protect their IP rights, it could find it difficult to expand abroad. Alibaba's business ambitions transcend e-commerce to include online video services where it competes with Netflix (NFLX) and Alphabet's (GOOGL) YouTube. The company also has an interest in cloud computing, where it competes with Amazon and Microsoft (MSFT), among others.