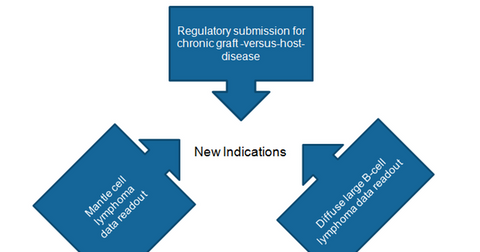 AbbVie Is Focused on Label Expansion of Imbruvica in 2017
By Margaret Patrick

Updated
Label expansion of Imbruvica
In addition to successful penetration in the first-line chronic lymphocytic leukemia (or CLL) segment, AbbVie's (ABBV) Imbruvica has also consolidated its position in second-line plus CLL settings. 
Beyond the CLL segment, AbbVie also plans to expand Imbruvica's label in other indications such as mantle cell lymphoma (or MCL), which is an aggressive form of non-Hodgkin lymphoma (or NHL); diffuse large B-cell lymphoma (or DLBCL) which is another form of NHL; and chronic graft-versus-host-disease (or cGVHD).
On January 19, 2017, the FDA approved Imbruvica as a treatment option for patients with relapsed/refractory marginal zone lymphoma, a type of NHL.
If the company can obtain regulatory approval for Imbruvica in more indications, it could boost AbbVie's revenues in future years. This may work in favor of the company's stock price, as well as that of the Vanguard Growth ETF (VUG). AbbVie makes up about 1.0% of VUG's total portfolio holdings.
Article continues below advertisement
Milestones expected in 2017
On April 4, 2017, AbbVie announced that the FDA had accepted for review the company's application seeking approval for Imbruvica as a treatment option for patients suffering from cGVHD. These patients also must have failed to respond to previous systemic therapies. 
Because there are no approved medications currently available in the market for this disease, AbbVie and partner Jannsen Biotech could benefit if the drug is approved by the FDA. AbbVie is also awaiting interim data from trials evaluating Imbruvica in MCL and DLBCL indications in 2017.
Imbruvica's solid clinical profile is expected to enable AbbVie to pose strong competition to other oncology players such as Pfizer (PFE), Sanofi (SNY), and Johnson & Johnson (JNJ).
In the final article in this series, we'll analyze growth prospects of AbbVie's oncology drug, Venclexta, in greater detail.