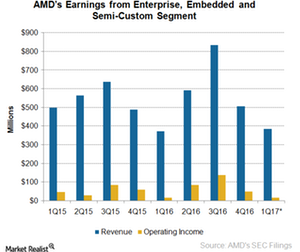 A Look at the Growth Drivers in AMD's EESC Segment
By Puja Tayal

Updated
AMD's Enterprise, Embedded, and Semi-Custom segment
In the previous part of this series, we saw that Advanced Micro Devices (AMD) is geared up for strong growth in 2017 with its new Ryzen CPU[1. central processing unit] and its Vega GPU.[2. graphics processing unit] AMD is expanding the application of these products in the EESC (Enterprise, Embedded, and Semi-Custom) segment.
AMD is expanding in the EESC segment, which comprises offerings for the data center, embedded, and game and non-game console markets. AMD looks to grow in the rapidly expanding data center and immersive platform markets, which present a $38 billion opportunity. 
AMD recently entered the licensing business, and its earnings from this business are included in EESC. EESC's contribution toward the company's revenues increased from ~40% in fiscal 2014 to 54% in fiscal 2016.
Article continues below advertisement
EESC's earnings trends
The EESC segment is largely governed by the game console market, which is seasonally strong in 2Q and 3Q. This segment reported record-high revenues of $835 million in 3Q16, as Sony (SNE) launched its upgraded PlayStation 4.5.
Game consoles
Analysts expect EESC's revenues to hit a new record in 3Q17, which would include semi-custom APU[3. application processing unit] orders from Sony for its PlayStation 4.5. These revenues would also include orders from Microsoft (MSFT) for its new console, Project Scorpio, which is due to launch in 2H17.
Article continues below advertisement
Data center
EESC could also witness strong revenue growth from the data center space in 2H17, as AMD launches its Naples CPU. The Naples CPU would give consumers an alternative to Intel's (INTC) server CPUs. 
The 2H17 revenues would also include sales of Vega GPUs for machine learning applications, which could pose strong competition to Nvidia's (NVDA) Tesla GPUs in the AI (artificial intelligence) market.
Licensing
EESC's revenues could reach new highs if AMD secures a licensing deal in fiscal 2017. It is currently engaged in a patent lawsuit with LG, Vizio, Mediatek, and Sigma Designs over three graphics patents. If even one of these lawsuits materializes into a licensing deal, EESC's profits would increase significantly.
2H17 earnings estimates
Analysts expect all of the above products to result in strong double-digit revenue growth for EESC in 2H17. It's difficult to quantify the revenues, as the product launch dates are not known. When the product specifications and launch dates are revealed, these revenue estimates should be revised.
In the next few parts of this series, we'll look at each of the above growth drivers in detail, starting with the game console business.