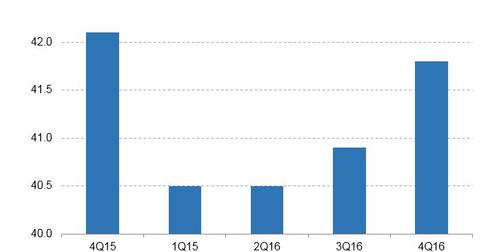 A Look at the AT&T–Time Warner Deal: What Changed?
By Ruchi Gupta

Updated
Upcoming obstacles
AT&T (T) and Time Warner (TWX) are still pushing ahead with their proposed merger. Executives on both sides seem to exude confidence that the deal could go through despite early criticism from their competitors, consumer protection groups, and politicians.
A lot has changed since AT&T and Time Warner announced in 2016 that they planned to combine their operations. Negative sentiment over the deal, especially in Washington, appears to be dissipating. Plus, the regulatory obstacles seem to be falling. 
European Union (EZU) regulators have already cleared the deal. In the US, only the Department of Justice needs to review the deal. The FCC has indicated that it doesn't expect to review the deal.
Article continues below advertisement
Avoiding FCC review reduces regulatory obstacles
An FCC review is usually a grueling process. Avoiding that step means fewer regulatory headaches for AT&T and Time Warner as they seek to combine their operations. As for the Department of Justice, it has limited room to block the deal because it must prove that the merger would imperil competition.
To avoid the risk of competition leading to the deal being blocked, Time Warner is divesting itself of some assets. The company said that it was selling its television station in Atlanta (WPCH-TV) to Meredith Corp.
Boost to media operations
A merger with Time Warner would bolster AT&T's (T) revenue growth and diversification efforts. The company's revenues fell 0.7% year-over-year to $41.8 billion in 4Q16, as shown in the chart above.
Faced with tough competition from Verizon (VZ) and T-Mobile (TMUS) in its core phone carrier business, AT&T is expanding into the media business to unlock new revenue streams. AT&T is pursuing Time Warner to enhance its media play.