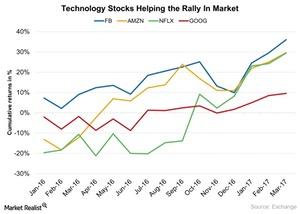 A Few Technology Stocks Are Helping the Technology Sector in 2017
By Mary Sadler

Updated
What's driving the technology sector's performance in 2017?
The markets have been surging with the help of the technology sector in 2017. The Dow Jones Industrial Average (DJIA-INDEX) continues to hover around 20,000, and the NASDAQ (COMP-INDEX) is also striking record highs.
Since the beginning of 2017, the Dow Jones Industrial Average and the NASDAQ have risen ~4% and 10%, respectively, as of March 31, 2017. Let's take a look at the performances of the four major stocks leading the rally in the markets.
Article continues below advertisement
"FANG's" performance in 2017
The four major technology companies are collectively known as "FANG"—an acronym created by TheStreet's Jim Cramer. These companies—Facebook (FB), Amazon (AMZN), Netflix (NFLX), and Google (GOOG)—are expected to be major index drivers in 2017.
Facebook seems to be the most sought after stock. So far, it's posted a rise of ~24% in 1Q17. Netflix and Amazon follow, with rises of ~20% and 17%, respectively. Google has been the worst performer on the list, with a rise of ~8% during the same period.
Are FANG stocks overvalued as of 2017?
These FANG stocks have been driving the market's performance in 2017, and they provided returns of over 80% in 2016. According to CFRA Research's Sam Stovall, many technology stocks could see corrections, as they're overvalued considering their business models. The technology sector's average PE (price-to-earnings) ratio stood at 31x on March 31, 2017. The sector's price-to-sales and price-to-cash flow ratios stood at 4.92x and 19.21x, respectively.
Among the FANG stocks, Google is the only one trading below the market average. It's currently trading at 28x its trailing earnings, and this valuation seems to be conservative, considering it owns over 60% of the search engine market. Facebook is currently trading at 40x its trailing earnings. However, Amazon and Netflix look expensive. They're trading at 180x and 345x their respective trailing earnings.
Nuveen's Bob Doll recently shared some of his favorite technology picks, which included Apple (AAPL), Microsoft (MSFT), Cisco (CSCO), and VMware (VMW), due to their business propositions.
However, despite the surge in technology stocks, there's uncertainty surrounding President Donald Trump's policy decisions. Trump's decisions related to net neutrality, immigration, regulation, and international trade could have enormous effects on the technology sector's performance in 2017.
Next, let's look at global initial public offering (or IPO) activity, which looks promising after the market's rally in 2017.