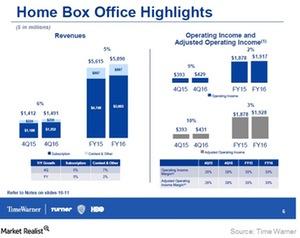 Will YouTube TV Threaten AMZN's Prime Instant Video's Popularity?
By Shirley Pelts

Mar. 14 2017, Updated 1:06 p.m. ET
Amazon's focus on premium content
According to a report from The New York Post early last month, Amazon's (AMZN) Prime Instant Video service could be looking to offer premium content.
The report, citing unknown sources, stated that Amazon Prime Video was looking at offering a paid service focused on premium content, similar to Time Warner's (TWX) HBO and CBS's (CBS) Showtime.
According to the report, this move toward premium content was fueled by the company's first movie, Amazon Studios' Manchester by the Sea, receiving six Oscar nominations. The company is increasingly looking at premium content as the key to its subscriber growth.
The company already offers paid subscriptions to channels such as HBO, Showtime, and Starz for Amazon Prime members through its Amazon Channels program.
If Amazon does start offering a paid streaming service focused on premium content and this content proves to be popular, it could gain an edge over streaming rivals such as Netflix (NFLX) and YouTube TV.
Article continues below advertisement
According to a FierceCable report from late last month citing JackDaw Research analyst Jan Dawson's post on Medium, Amazon Prime is likely to have ~70 million subscribers, and its Prime Video service likely brought in revenue of $2.5 billion in 2016. These numbers indicate the growing importance of Prime Instant Video for Amazon.
Time Warner's HBO's focus on premium programming
Time Warner has stated that a core driver of its rising subscription revenue has been the distribution of its programming through its affiliates and OTT (over-the-top) services, including Amazon's Instant Prime Video service.
Another driver of HBO's success has been its original programming. According to the company, it's also observed an uptick in OTT subscriber growth, and it intends to tie up with more OTT services this year.
HBO saw revenue of $5.9 billion in its most recent quarter, a rise of 5% year-over-year (or YoY), with operating income of $1.9 billion. The revenue rise was mainly the result of a rise in subscription revenue.