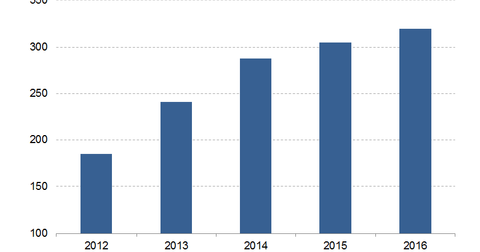 Will Trump Be a Cost or a Benefit to Twitter?
By Ruchi Gupta

Updated
Anemic subscriber growth
Twitter's (TWTR) stagnating user growth has been a cause for concern for its shareholders and prospective investors, yet there seems to be an opportunity for the company to grow its subscriber numbers. That opportunity is President Donald Trump, though he also presents risks for the company.
Twitter finished 2016 with 319 million monthly active users, having added just 14 million new subscribers over a whole year, whereas Facebook (FB) added 265 million new users during the same period. The chart above shows how Twitter's user base has changed over the last few years.
Article continues below advertisement
Trump drawing people to Twitter
Trump's popularity on Twitter has the potential to draw more users to the service. The president has more than 24 million followers on his personal Twitter account, according to Fortune. He uses the platform to share his thoughts on national issues, to rebuke, and to commend.
As a result, Trump's fans and critics are finding themselves visiting Twitter frequently to keep up with his updates, which is great for driving user engagement and drawing new subscribers to the platform.
However, Trump's sometimes inflammatory remarks could also cause some users to stay off Twitter, impacting engagement and ad spending on the site.
Twitter makes gains in 4Q16
Though Twitter's 4Q16 financial results didn't show any meaningful boost from high political activity in the United States in the latter part of 2016, data from App Annie show that the company has made some gains. 
According to the data, Twitter was among the top 20 app downloads between October 2016 and February 2017. Research company CivicScience has also shown that the percentage of US adults active on Twitter has risen to 15% from 13% over the past year.
When it comes to spending on digital ads, marketers carefully analyze user base and user engagement to decide where to spend their budgets, putting Twitter in tough competition with Facebook, Alphabet's (GOOGL) Google, Yelp (YELP), Microsoft (MSFT), and Snap.