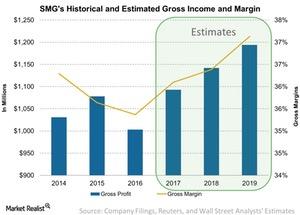 Scotts Miracle-Gro: Gross Margins in the Near Term
By Adam Jones

Mar. 14 2017, Updated 10:36 a.m. ET
SMG's gross margins
Analysts estimate that in the next three years, sales numbers for Scotts Miracle-Gro (SMG) will trickle down to gross margins. Let's take a look at gross income and margin estimates for SMG for the next three years and analysts' revisions.
Article continues below advertisement
Margins to expand
In the above graph, we can see clearly that Scotts Miracle-Gro's gross income and margins are set to expand in the next three years compared to the past three years. In 2017, its gross income is estimated at $1.9 billion. On a revenue estimate of $3.0 billion, that would translate to a gross margin rate of 36.1%. It was 35.4% in 2016 with an average of 35.8% in the past three years.
For fiscal 2018 and fiscal 2019, Wall Street analysts expect SMG's margins to expand. They estimate an expansion of 36.4% in 2018 and 37.1% in 2019.
Any advances by companies (XMLV) such as Central Garden & Pet (CENT), Spectrum Brands Holdings (SPB), and Seaboard (SEB) will weaken SMG's margins.
Analyst revisions
Much like the revision in sales, analysts revised their gross margin estimates for Scotts Miracle-Gro upward after November 2016. Keep in mind that it was around that time that SMG acquired American Agritech (or Botinacare), which supplies the hydroponics market.
Next, let's take a look at SMG's EBITDA (earnings before interest, tax, depreciation, and amortization) estimates and revision.