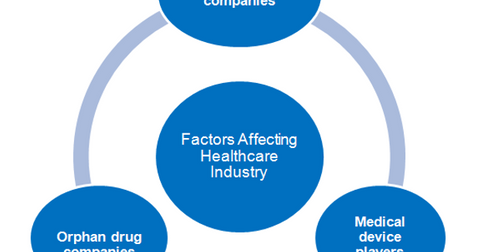 Failed Healthcare Bill Will Impact the Pharmaceutical Industry
By Margaret Patrick

Updated
Pharmaceutical industry
Due to the failure of the new healthcare bill, major pharmaceutical companies such as Pfizer, Gilead Sciences, Johnson & Johnson, Amgen, and Merck witnessed a fall in their share prices from March 23, 2017, to March 27, 2017, of ~0.3%, 0.08%, 0.7%, and 0.1%, respectively.
The new healthcare bill's failure caused concerns regarding the Trump Administration's ability to pass tax reforms. President Trump frequently voiced his opinion on reducing corporate tax rates from the current 35% to 15%–20%. He also plans to allow companies to repatriate cash from foreign locations at a 10% tax rate. The tax holiday is expected to benefit big pharmaceutical companies such as Pfizer (PFE), Merck (MRK), and Johnson & Johnson (JNJ). Cash repatriation will help them access a cheap source of funding, which can help boost research and development efforts as well as mergers and acquisitions. Uncertainty related to tax reforms is expected to mostly hurt investor sentiment for these stocks.
The bill's failure also had a negative impact on share prices of the iShares Nasdaq Biotechnology ETF (IBB). Amgen accounts for ~7.3% of IBB's total portfolio holdings.
Article continues below advertisement
Orphan drug companies
Orphan drug players such as Vertex Pharmaceuticals (VRTX) and United Therapeutics witnessed a rise in share prices after President Trump's proposed healthcare bill failed.
If the new bill had been implemented, it would have reduced the number of insured people in the US. Since orphan drugs are very expensive, most people can't afford them without insurance coverage. The bill would have increased premiums for people with pre-existing conditions. It would have allowed health insurance carriers to restrict coverage for certain services. It would have had a negative impact on orphan drug players' margins.
Medical device players
Medical device companies, such as Medtronic and Boston Scientific, also witnessed a rise in share prices after the new healthcare bill failed. Stocks' performance mainly depends on the percentage of revenues earned from selling devices to hospitals. Increased hospital profitability is generally linked to more medical device purchases.