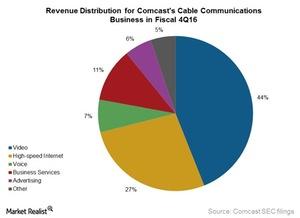 Will Changes in the Regulatory Environment Help Comcast?
By Shirley Pelts

Apr. 3 2017, Updated 9:38 a.m. ET
Recent changes in the regulatory environment
On March 23, Reuters reported that the US Senate had voted in favor of repealing regulations regarding consumer privacy. According to the report, in October last year, the FCC (Federal Communications Commission) under President Obama had passed a regulation that had made it mandatory for ISPs (Internet service providers) like Comcast (CMCSA) to obtain consent from the consumer before using tools like browsing history and geolocation to target a consumer for advertising.
Article continues below advertisement
However, the repeal of this regulation would mean that ISPs like Comcast would be allowed to do targeted advertising using consumer data. Earlier this year, the Trump administration appointed Ajit Pai as FCC (Federal Communications Commission) chair, which raised some concerns that Pai would promote deregulation.
Last month, the FCC also stopped its investigation of telecommunication companies' zero-rating policies. Under these policies, telecommunication companies like AT&T (T) and T-Mobile (TMUS) allow subscribers to stream videos from streaming services like Netflix (NFLX) without using up data from their data plans.
Comcast was asked at the Deutsche Bank Media, Internet and Telecom Conference earlier this month about how the changed regulatory environment could impact its business. The company stated that considering Comcast was a large taxpayer in the United States (SPY), corporate tax reforms would be beneficial for the company.
Net neutrality
Comcast made it clear that while it did support net neutrality, it didn't favor the classification of net neutrality under Title II of the Communications Act. The classification of net neutrality under Title II has meant that broadband was expected to be regulated like any other utility service.
A rollback in net neutrality rules under Trump could bode well for Comcast. It could mean that Comcast wouldn't have to worry about third-party claims from streaming services for damages due to slowing down Internet traffic.
As the above chart indicates, Comcast's high-speed Internet and video businesses together made up nearly 71% of Comcast Cable's total revenues of $12.8 billion in fiscal 4Q16.