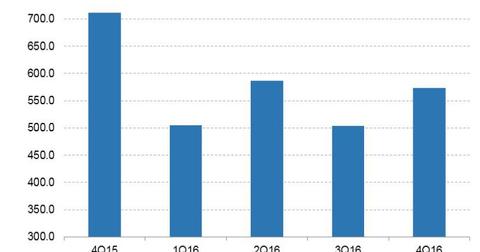 Why Nokia's Ambitions Are a Threat to Fitbit
By Ruchi Gupta

Updated
Nokia to stir fitness tracker competition
Nokia (NOK) has begun showing why it acquired Withings, a leader in the connected health market. However, the signals Nokia is sending about its plans for Withings could increase Fitbit's (FIT) stress level.
Nokia is moving to rebrand Withings's portfolio of products, including smartwatches optimized for fitness tracking. However, rebranding and optimizing Withings's products is only the beginning. Nokia also intends to use the technology that Withings has brought on board to create more "medical grade devices," as described by Nokia's CEO, Rajeev Suri. Withings's products are used to monitor heart rate, steps, and distance traveled, which parallels Fitbit's main functions.
Article continues below advertisement
Fitbit is vulnerable
Nokia's entry into the smartwatch and fitness tracker market, thanks to the Withings acquisition, could rattle Fitbit, a leader in the space. As an incumbent in the fitness tracker market, Fitbit is vulnerable to increasing competition in the industry. The company is already struggling to grow its revenues, as the chart above shows.
Return to consumer devices business
Venturing into the smartwatch and fitness tracker market is part of Nokia's return to consumer electronics business after it temporarily exited the scene following the sale of its Devices segment to Microsoft (MSFT). Nokia's return to the consumer devices business is also a challenge to Apple (AAPL) and Samsung (SSNLF) because it would aim for their smartphone market share.
Nokia has outsourced the production of its consumer devices, a strategy that seems designed to allow it ample room to concentrate on its core Networking Equipment segment.