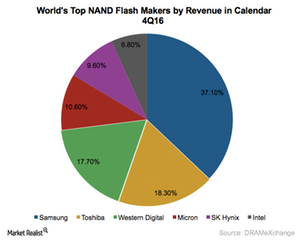 Why Memory Makers Could Be Interested in Toshiba's Memory Unit
By Puja Tayal

Updated
What does Toshiba have to offer memory makers?
Rumors indicate that Japan's (EWJ) Toshiba (TOSBF) has been forced to sell its Memory unit amid financial troubles arising from its US Nuclear division. Toshiba is the world's second-largest NAND maker, accounting for 18.3% of market share in 4Q16, according to DRAMeXchange.
Toshiba has a 50-50 joint venture with Western Digital (WDC) under which the companies share the R&D (research and development), capital expenditure, and operating expenses of four fabrication facilities, or fabs. Toshiba has committed to invest $7.8 billion on a new 3D NAND fab over three years to fiscal 2018. However, its current financial troubles have put the new fab's construction into question.
Article continues below advertisement
How could memory makers benefit by acquiring Toshiba's memory business?
In a consolidated NAND market, any increase in production to get market share would have an immediate impact on pricing. However, the current undersupply situation in the NAND market could increase a memory maker's yield and help it benefit from favorable market conditions.
Micron Technology
If Micron Technology (MU) decides to acquire Toshiba's NAND business, it would aim to become the sole or the main DRAM and NAND supplier to Toshiba and WDC. This would help Micron Technology gain a significant market share, especially in the mobile MCP (multi-chip packages) market. The MCP can be expanded into other areas such as IoT (Internet of Things), TV, and wearables.
Article continues below advertisement
SK Hynix
SK Hynix entered the 3D NAND market in December 2016, announcing an ~$1.9 billion investment on a new NAND fab. If it acquires Toshiba's memory unit, it could accelerate its 3D NAND ramp-up along with Western Digital, as both Toshiba and SK Hynix manufacture 3D NAND on similar BiCS architecture.
Western Digital
If Western Digital acquires Toshiba's share of the joint venture, it could continue with its NAND operations with the same staff and technology and double its NAND output. If a rival like Micron or SK Hynix acquires Toshiba's share, they would obtain access to WDC and Toshiba's intellectual property, removing WDC's the technological advantage.
Micron Technology (MU) could also implement its own 3D NAND process instead of Toshiba's BiCS process, which could deprive WDC of its R&D partner. Moreover, Micron Technology may not be willing to share the new fab with WDC, leaving the latter with smaller fabs.
WDC would benefit only if a Japanese company, a financial company, or a customer like Canon, Foxconn, or Apple (AAPL) acquires Toshiba's share. These companies—individually or in a consortium—would be silent partners and provide the necessary funding to build the new fab and maintain the other fabs. WDC would also have the liberty to operate the fabs.
Even if Micron doesn't participate in the acquisition, it would continue with its development program. Next, we'll look at the company's strategy for the 3D XPoint technology.