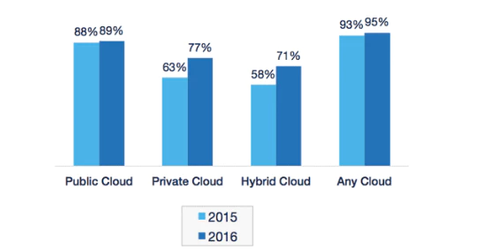 Why Is NetApp Optimistic about the Hybrid Cloud Segment?
By Adam Rogers

Updated
Enterprises prefer hybrid cloud
According to a research report released by hardware tech (QQQ) firm NetApp (NTAP) in March this year, several IT managers in the United Kingdom, France, and Germany have recognized the benefits of adopting hybrid cloud technology. The report states that 69% of respondents in Germany, 61% in France, and 58% in the UK prefer hybrid cloud technology. The survey included the responses of 750 CIOs and IT managers. Enterprises are also increasingly trusting the service of cloud providers, as over 50% of respondents stated security as the primary reason for cloud adoption.
Hybrid cloud technology provides its users with the opportunity to place their workloads into environments according to suitability. By combining public and private cloud services, users can maximize the benefits of cloud migration.
Article continues below advertisement
Scalability is driving adoption of hybrid cloud
In 2015, the hybrid and private cloud spaces registered 45% growth compared to the 51% growth in the public cloud space. As more and more companies add private cloud technology, hybrid cloud adoption could continue to rise. The increase in private cloud adoption caused hybrid cloud adoption to rise 58% in 2015 and 71% in 2016 on a year-over-year basis. The scalability and flexibility of the hybrid cloud enable an enterprise to develop an automated, secure, and integrated computing environment in a cost-effective manner.
The hybrid cloud provides the control and security of a private cloud along with the versatility, user friendliness, and cost-effectiveness of a public cloud. Organizations prefer hybrid cloud solutions because even when using cloud services, they still have control over their data. Thus, hybrid cloud technology offers more control, cost structure efficiency, reduced risk, and better performance. These factors are likely a significant factor in the hybrid cloud's increased adoption.