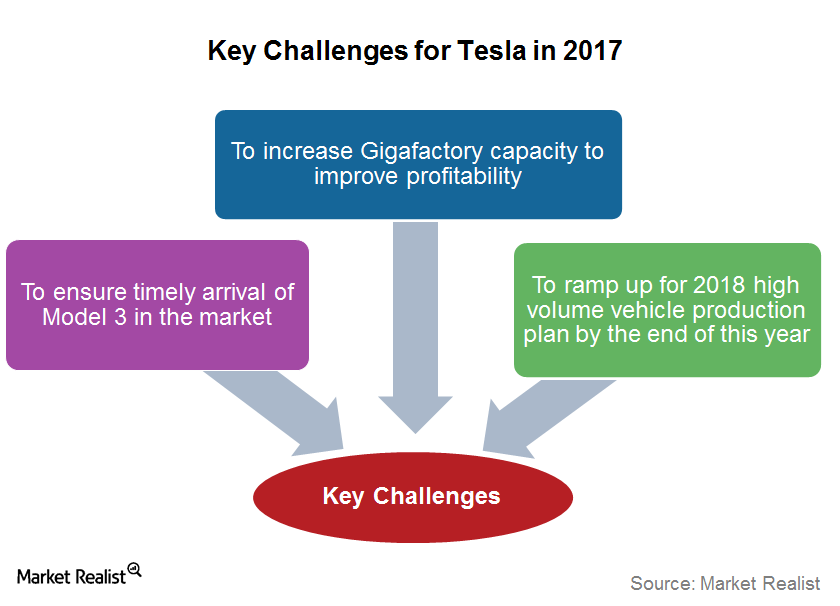 Why Is Fiscal 2017 So Critical for Tesla?
By Jitendra Parashar

Nov. 20 2020, Updated 4:46 p.m. ET
Tesla
It's almost been one decade since Tesla (TSLA) launched the Roadster, its first vehicle, in markets. The company has on many occasions claimed that its vision is to encourage sustainable energy and transport.
We can't deny the fact that so far Tesla has been successful in grabbing the attention of many other established automakers in regards to electric vehicles. Now, let's look at why fiscal 2017 could be so critical for Tesla.
Article continues below advertisement
Model 3 and Gigafactory
Last year, Tesla unveiled its ambitious mass-market all-electric vehicle (or EV) Model 3. Model 3 is very important for the company for several reasons. First, Model 3 provides an opportunity for Tesla to significantly expand its consumer base, which has been limited to a niche so far. Due to their high pricing, the company's previous car models including Roadster, Model S, and Model X, target consumers with high disposable income. However, this is not the case with Model 3, as it offers attractive features at a relatively low price range.
To ensure profitability from Model 3, Tesla relies on its Nevada-based Gigafactory. Large-volume production of a product can divide the fixed costs and significantly reduce the cost per unit. That's why Gigafactory is so important for Tesla. It should bring down the cost of Model 3 battery packs with economies of scale.
Significance of fiscal 2017
In the second half of fiscal 2017, Tesla is likely to begin the first deliveries of Model 3. The company also has a challenge to significantly enhance Gigafactory capacity this year in order to achieve its high-volume vehicle production plan by next year. This is the reason why fiscal 2017 could be of great significance for Tesla.
Note that established automakers (XLY) such as General Motors (GM), Ford (F), and Honda (HMC) have already increased their focus to tap the growth potential of the EV segment.
Continue to the next part where we'll look at key factors that could affect automakers' valuation multiples after their 4Q results.