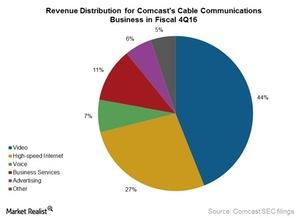 Why Comcast Is Upbeat about Its Xfinity Home Business
By Shirley Pelts

Mar. 21 2017, Updated 8:06 a.m. ET
Comcast's acquisition of Icontrol Networks
Earlier this month, FierceCable reported that Comcast (CMCSA) had closed the acquisition of IoT (Internet of Things) business Icontrol Networks for an undisclosed amount. According to the report, citing Daniel Herscovici, senior vice president and general manager of Xfinity Home, the acquisition will enable Comcast to license its Xfinity Home to MSOs (multiple system operators) in the United States and in international markets.
According to the FierceCable report, Icontrol's Converge home automation platform is already used by the home automation services of Charter Communications (CHTR), Cox Communications, and Rogers Communications (RCI).
Article continues below advertisement
Comcast's Xfinity Home service
Comcast's Xfinity Home is a security service aimed at residential customers. Comcast's Xfinity Home is a part of Comcast's Other revenues and was launched four to five years ago. Last year, Comcast had stated that its home security business had surpassed 500,000 subscribers and that it expects this business to grow further.
Comcast had stated at an earlier earnings call that around 55% of Xfinity Home's customers are also Comcast's customers for the first time. As a result, Comcast views its Xfinity Home business as a way of attracting new customers and building new customer relationships. According to Comcast, around 60% of these new customers have Quadruple Play (the bundling of high-speed Internet, television, land line, and mobile service in one package).
Last year, Comcast said that its home security business was an industry worth around $9 billion. As the graph indicates, Comcast's Xfinity Home security service revenues are a part of Comcast's Other revenues. These revenues accounted for 5% of Comcast's total revenues of $12.8 billion in fiscal 4Q16.
According to a MarketsandMarkets report, the home security solutions market is expected to be worth $47.5 billion by 2020 and to grow at a CAGR (compound annual growth rate) of 8.7% between 2015 and 2020.