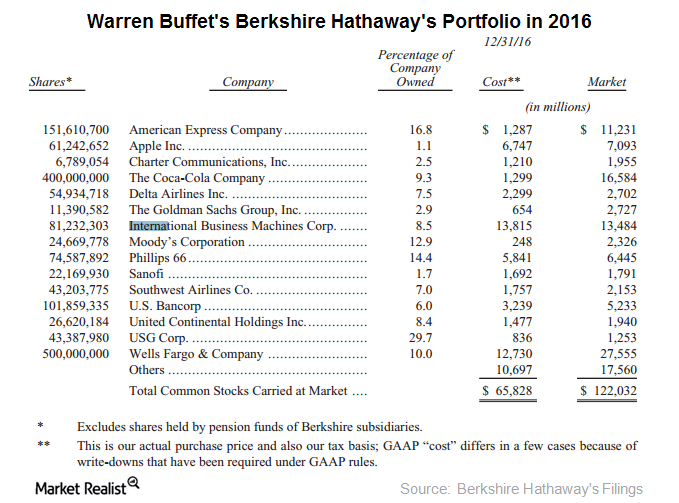 Why Buffet's Eying IBM
IBM's dividend yield attracts investors
Despite its 19 straight quarters without revenue growth, IBM (IBM) represents the only other tech holding (with Apple [AAPL]) in Warren Buffett's portfolio. Recently, Berkshire Hathaway increased its stake in Apple to become one of the largest five shareholders. It increased its stake from 10 million shares to 133 million shares in 2017.
With its ~8.5% stake in IBM, Berkshire Hathaway is IBM's largest shareholder. According to the institutional ownership report, Berkshire Hathaway had 81.2 million IBM shares as of 4Q16.

Warren Buffett chose to add IBM to its portfolio, initially, because the company is focused on dividends. Many of IBM's investors and shareholders view dividends as steady income. Oracle (ORCL) also follows this strategy.
In 2016, IBM's dividend payout ratio was 44.4%. IBM's dividend strategy and yield made it one of Cornerstone Macro's 2017 "Dogs of the Dow."
Article continues below advertisement
Buffett's positive stance on share buybacks
Sharing his opinion on why he prefers share buybacks, Buffett said, "We very much like this behavior because we believe the repurchased shares have, in most cases, been underpriced. (Undervaluation, after all, is why we own these positions.) When a company grows and outstanding shares shrink, good things happen for shareholders."
The intensity of IBM's share buyback spree can be gauged from the sharp decline in its shares outstanding. In 1997, IBM had 1.9 billion shares outstanding. Currently, it has about 950 million—less than half of what it had 20 years ago.
Share buybacks in the tech sector
We know that share buybacks are preferred by companies because they reduce the number of shares outstanding and increase EPS (earnings per share). They hold special importance for the technology sector—particularly for IBM, which is finding it difficult to report top-line growth.
the IT (information technology) sector spent the most among industries on share buybacks. It maintained this rank in terms of share buybacks in calendar 2Q16 as well as 3Q16.
Apple topped the list of spending the most on share buybacks. Microsoft (MSFT) and Oracle (ORCL) were the other tech companies among the top ten companies that spent the most on share buybacks. Apple's spending on buybacks explains increased interest of Berkshire Hathaway in it.
Following the trend in the technology sector, IBM returned $9 billion through dividends and share repurchases to its shareholders in fiscal 2016.