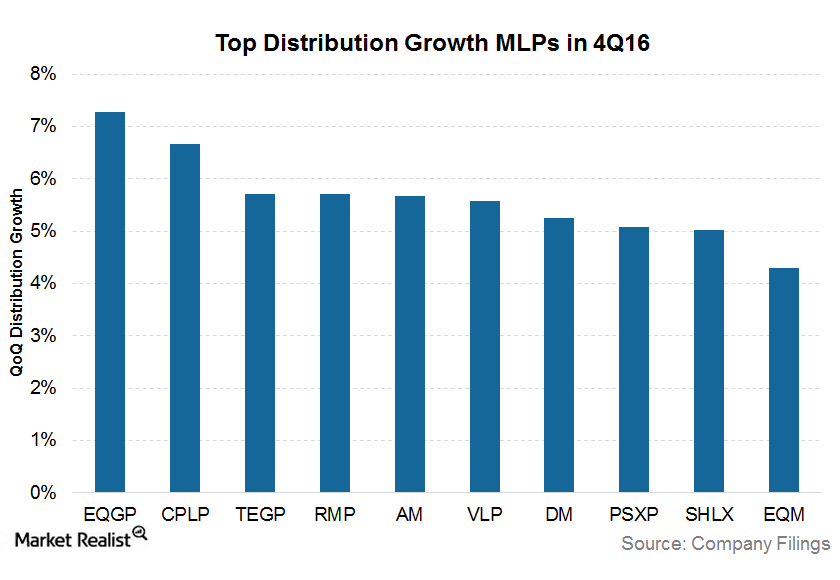 Which MLPs Are Leading in Distribution Growth?
MLPs' distribution
In this article, we'll look at MLPs' distribution growth for the latest quarter. Of 113 MLPs, 37 managed to grow their quarterly distribution based on 4Q16 earnings. Nearly 62 MLPs kept their distribution unchanged. This includes GPs (general partners) of limited partnerships and midstream C corporations. EQT GP Holdings (EQGP), Capital Product Partners (CPLP), and Tallgrass Energy GP (TEGP) saw the highest distribution growth among MLPs. EQGP and TEGP are the GPs of EQT Midstream Partners (EQM) and Tallgrass Energy Partners (TEP).
Article continues below advertisement
Distribution cuts
No MLPs announced distribution cuts in 4Q16, excluding variable distribution MLPs, for which distribution may vary every quarter. Approximately 23 MLPs have cut their distribution since the rout in energy prices, including Williams Partners (WPZ). This means ~80% of MLPs have managed to keep their distribution growing or constant since the rout in energy prices.
Most of the MLPs that have cut their distributions have high commodity price exposure, high leverage, or both. Upstream MLPs saw the most distribution cuts.