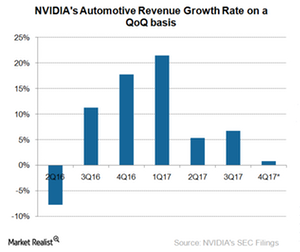 When Could Nvidia's Autonomous Car Efforts Materialize into Earnings?
By Puja Tayal

Updated
Autonomous cars
In the previous part of this series, we saw that Nvidia (NVDA) is a leader in AI (artificial intelligence) and that it's looking to expand the use of this technology in various markets. AI has not reached the point where a computer can make decisions like a human does. AI is in an early stage where a human user commands a computer to perform a task, which it can do more efficiently and accurately than a human can.
Article continues below advertisement
However, Nvidia has achieved a slightly higher level in AI with deep learning. At the CES (Consumer Electronics Show) 2017, it showcased the BB8 autonomous car equipped with its AI car platform DRIVE PX 2. This AI technology can recognize a driver and his or her preferences, monitor the driver's alertness, understand the driver's language, and provide alerts when there is potential danger.
These capabilities show that autonomous cars could soon be a reality. Tesla (TSLA) would deploy Nvidia's DRIVE PX 2 in its Model S, Model X, and upcoming Model 3 to achieve a certain degree of automation. With software updates, these cars can gradually become fully autonomous.
However, fully autonomous cars would take some time to hit the market as the necessary regulations and infrastructure must be put in place. This has slowed Nvidia's revenue growth in the Automotive segment.
Automotive revenues
After growing as high as 21.5% sequentially in fiscal 1Q17, Nvidia's Automotive segment revenue growth slowed to single digits. In fiscal 4Q17, the segment's revenues rose 6.7% sequentially to $128 million. However, its fiscal 2017 Automotive revenues rose 52% YoY to $487 million, mostly driven by car infotainment.
The autonomous car is still in its nascent stage, and it could take some time to start showing earnings growth. Hence, the segment's growth slowed on a sequential basis. Once the technology is fully developed, Nvidia's Automotive revenues could grow exponentially.
Nvidia's initiatives in the Automotive segment
Nvidia (NVDA) has announced several partnerships with companies in the automotive supply chain to convert the autonomous car concept to reality. Nvidia has partnered with carmakers like Audi and Mercedes-Benz; Tier 1 suppliers like Bosch and ZF; cloud-to-car mapping technology companies like HERE, which are focused on the US and Europe (IEV), and ZENRIN, focused on Japan; and mapping services like Europe's TomTom and China's Baidu (BIDU).
Nvidia's DRIVE PX 2 is also powering Volvo's initial autonomous car program Drive Me, under which Volvo's XC90 SUV would drive automatically in Gothenburg, Sweden.
Nvidia's CEO, Jen-Hsun Huang, expects early adopters to bring self-driving cars on the road in 2017, followed by major carmakers rolling out Level 4 car automation by 2020.
Next, we'll look at Nvidia's Professional Visualization business.