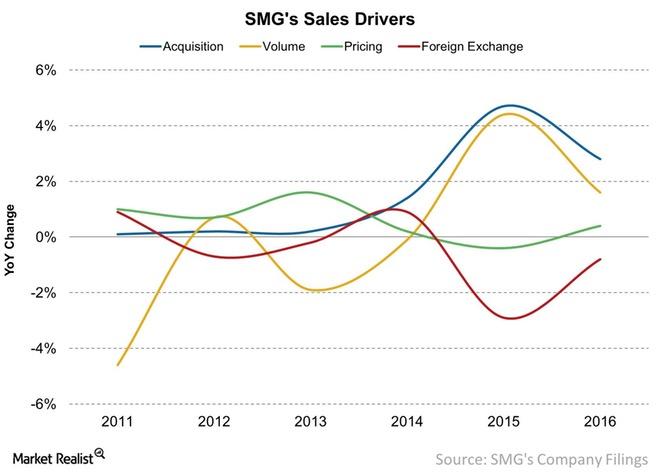 Here's What's Driving Scotts Miracle-Gro
By Adam Jones

Nov. 20 2020, Updated 3:36 p.m. ET
What's driving the company?
In the previous part of this series, we looked at Scotts Miracle-Gro's (SMG) impressive performance in 2016. Since investments are forward-looking, any upward momentum in the stock over an extended period indicates higher return expectations in the future.
So what's the key to Scotts Miracle-Gro's success? After all, it sells lawn and garden products that have been around for years.
Article continues below advertisement
Growth drivers
The above graph shows four drivers that impact Scotts Miracle-Gro's sales. In 2016, net sales rose 4.0% YoY (year-over-year). In 2015, they rose 5.8% YoY. Volume, pricing, and foreign exchange are the core components of the company's sales drivers, and they come from its existing business operations.
Together, pricing and sales volume drove 2.0% of SMG's 2016 net sales, while foreign exchange rates negatively impacted sales by 80 basis points. In 2015, volume and pricing drove 4.0% of net sales, while foreign exchange negatively impacted net sales by 2.9%.
Closely analyzing these drivers should be the starting point for setting expectations for the future returns of companies (XMLV) such as Scotts Miracle-Gro, Central Garden & Pet (CENT), PotashCorp (POT), and CF Industries (CF). Read our latest series Post-4Q16 Dirt: Your Operating Results for 8 Fertilizer Producers to learn more.
Growth through acquisition
In 2016, acquisitions drove SMG's net sales by 2.8%. In 2015, they drove net sales by 4.7% YoY. So growth through acquisitions appears to be underpinning investor enthusiasm for Scotts Miracle-Gro.
In the next part of this series, we'll look at SMG's recent acquisitions and future acquisition opportunities.