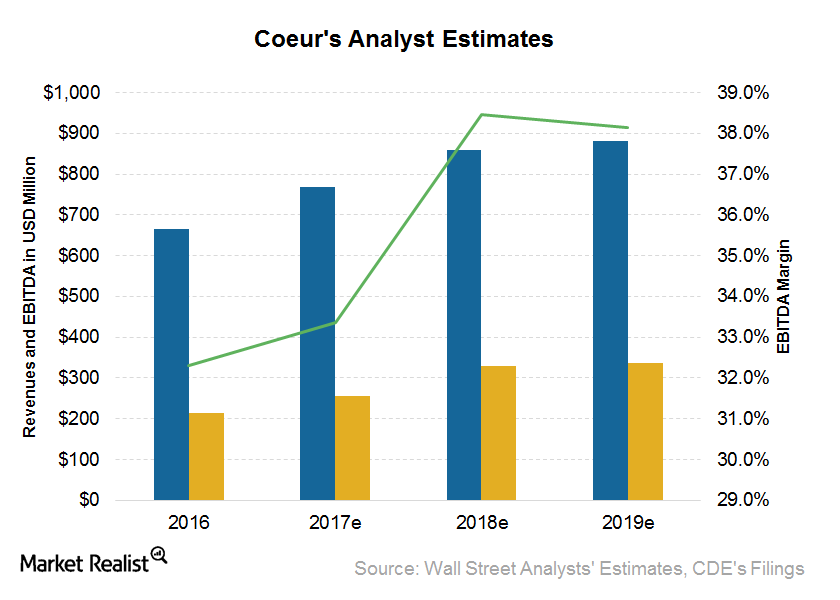 What's Driving Analysts' Earnings Estimates for Coeur Mining?
Coeur's revenue estimates
Analysts' revenue projections are indicative of a mining company's volumes sold multiplied by its prices received. Wall Street analysts covering Coeur Mining (CDE) are projecting sales of $768.6 million for 2017. That implies a 15.4% rise in revenue year-over-year (or YoY). Coeur's actual revenues rose 3.0% YoY in 2016.
Increased mining rates at Coeur's Palmarejo sites as well as the leach pad extension at its Rochester mines should lead to higher production for 2017 compared to 2016. That seems to be the likely driver of higher revenue estimates. Coeur's guided production implies a rise of 16.0% for silver at the midpoint.
Revenue estimates for 2018 and 2019 are $856.0 million and $880.0 million, respectively. Those figures imply YoY rises of 11.6% and 2.6%, respectively.
Article continues below advertisement
EBITDA margins
Coeur Mining's adjusted EBITDA (earnings before interest, tax, depreciation, and amortization) for 2016 was $215.2 million, implying an EBITDA margin of 35.6%. Analysts expect Coeur's 4Q16 EBITDA to be $55.8 million, implying an EBITDA margin of 32.3%.
Coeur's EBITDA margin was just 15.7% in 2015. Higher margins in 2016 came mainly on the back of higher precious metal prices. Analysts are expecting an EBITDA margin of 33.4% for 2017. The margin should rise to 38.5% and 38.1% for 2018 and 2019, respectively, according to consensus estimates.
Coeur's costs going forward should normalize, leading to higher margins.
Coeur's peers
Coeur Mining's silver peers (RING) such as Hecla Mining (HL), Silver Standard Resources (SSRI), and Pan American Silver (PAAS), as well as senior peers Newmont Mining (NEM) and Barrick Gold (ABX) are trying to reduce their costs in order to manage the volatility in precious metal prices.
Let's look next at the technical indicators for Coeur Mining and its peers.