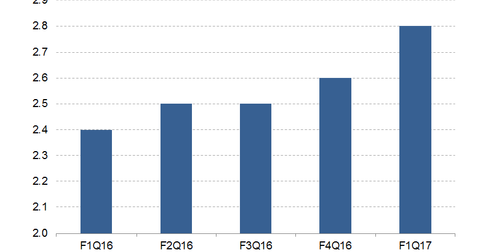 What's Consuming Apple's Research and Development Funds?
By Ruchi Gupta

Updated
R&D spending hit peak in 2016
Although Apple's (AAPL) R&D (research and development) spending as a percentage of its revenue is smaller than the likes of Alphabet's (GOOGL), Microsoft's (MSFT), and Facebook's (FB), the company has continued to spend more money on R&D programs.
Apple pumped a total of $10.4 billion into R&D in fiscal 2016, the amount being the highest annual R&D expenditure that Apple has ever disclosed. Apple's R&D spending rose in the year despite its revenue falling compared to fiscal 2015.
Apple's R&D spending in fiscal 1Q17 was $2.8 billion, up from $2.4 billion a year earlier. The chart above shows Apple's R&D spending in the last five quarters.
Apple has multiple secret projects that are believed to be consuming a large portion of its R&D funds.
Article continues below advertisement
Project Titan
Project Titan is a shadowing program believed to house Apple's car project. Though Apple was initially believed to be developing an electric car to compete with Tesla (TSLA), recent media reports, including one by Bloomberg, have suggested that Apple's car project could include autonomous driving technology.
Apple could be spending a ton of money to bring its car project to reality as it seeks to open new revenue streams beyond the iPhone.
Augmented reality and home automation
Apple is believed to be quietly working on an AR (augmented reality) device akin to Alphabet's troubled Google Glass. The company is also said to be plotting entry into the home automation systems market with a device akin to Amazon's Echo and Alphabet's Google Home. These AR and home automation devices could be consuming a large portion of its R&D funds.
The spike in the company's R&D budget could also suggest increased spending to develop a revolutionary iPhone for this year.