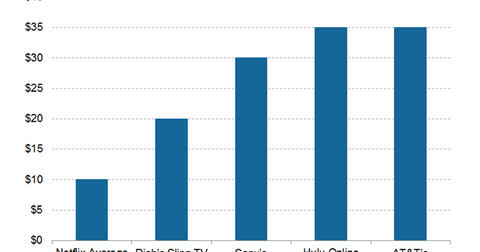 What YouTube TV Means for Hulu's Online Television Service
By Shirley Pelts

Updated
Hulu's online television service versus YouTube TV
Hulu is set to launch its online television service this year. Media companies such as 21st Century Fox (FOXA), Comcast's (CMCSA) NBCUniversal, and The Walt Disney Company (DIS) are equal stakeholders in Hulu, while Time Warner (TWX) bought a 10% stake in Hulu late last year.
Hulu has also entered into content licensing agreements with Disney and 21st Century Fox for ~35 television networks, including Disney's ESPN, for its online television service. With Alphabet's (GOOG) YouTube set to launch YouTube TV, FOXA was asked about the rising competition in the online television space on its 4Q16 earnings call.
Article continues below advertisement
The company admitted that the online television space was getting crowded but that the competition was healthy for content companies, as it would mean increased demand for content. The company also pointed out that Hulu's online television service would consist of content that included live events, originals, and a library featuring past seasons of popular television shows.
21st Century Fox believes that this type of content will result in a compelling streaming service for the viewer.
Pricing of Hulu's online television service
As the popularity of streaming services such as Netflix (NFLX) grows, viewers are watching more and more content online. It tends to be cheaper to watch content online: For a viewer, a cable bill can be ~$100 or more each month, while a basic plan for Netflix costs only ~$8 each month.
As the chart above indicates, Hulu's online television service is expected to be $35 per month, the same as YouTube's YouTube TV. Because these two services will be the same price, it remains to be seen which will be a more compelling streaming service for the viewer.