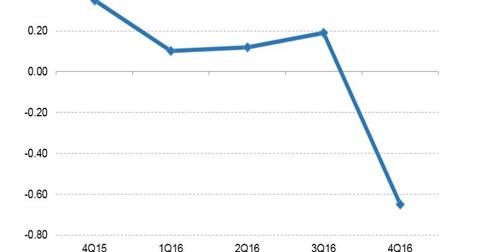 What Fitbit's Steep Product Discounting Reveals
By Ruchi Gupta

Updated
25% discounts
Fitbit (FIT) products have been available on e-commerce platforms, including Amazon's (AMZN) retail site, at steep discounts that can touch 25%. Why is that happening when the holiday season—and its generous discounts—is over? Its fitness tracker Charge 2 is discounted 13% and the Flex 2 is discounted 20%, which seems as if Fitbit is setting aside considerable revenues.
Without a clear reason, Fitbit marked down prices on its products in the new year, which could indicate its demand problem. Perhaps that could explain why the company reported anemic earnings in 4Q16 and why its struggles may continue in 2017.
Article continues below advertisement
Disappointing quarterly earnings
It seems that Fitbit and its resellers exited the holiday season with a lot of unsold inventory that they tried to move by selling at steep discounts. If that's the case, it could help explain why Fitbit's 4Q16 revenues of $574 million fell 19% from a year earlier and came in at the lower end of its already-low guidance.
The top line figure also missed consensus estimates. The bottom line also missed its consensus estimates, which widened to its earnings per share (or EPS) loss of $0.65 against EPS profit of $0.35 a year earlier. The chart above shows Fitbit's quarterly EPS trend.
What's the remedy?
To address its growth problem, Fitbit has signaled efforts to expand into the smartwatch category. The company has largely positioned its wearable devices as a fitness tracker, and diving deeper into smartwatches could see it take on Apple (AAPL) and Samsung (SSNLF) more directly.
According to Fitbit's CEO, James Park, the worldwide smartwatch market is worth more than $10 billion. Grabbing even a fraction of that market could reverse Fitbit's dwindling fortunes. However, Fitbit may not have an easy road as it pursues smartwatch dollars. Nokia (NOK) is set to stir the market as it begins rebranding Withings's range of smartwatches.