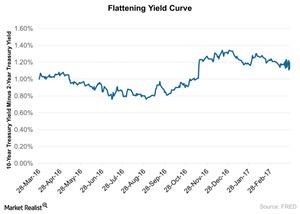 What Does the Flattening Yield Curve Indicate for Investors?
By Mary Sadler

Nov. 20 2020, Updated 1:22 p.m. ET
Rising interest rate scenario and the bond market
According to Howard Marks, the bond market has almost fully priced in the March 2017 interest rate hike. The hawkish tone in the Federal Reserve's last meeting of 2016 set high expectations for hikes in 2017.
Bond markets are experiencing rising yields due to higher economic growth expectations. However, the 10-Year Treasury yield was still low at 2.4% on March 29, 2017, compared to its historical average of ~4% in the last two decades. Let's look at the historical trend of the yield spread between 2-Year and 10-Year Treasury securities. The spread should indicate how market participants view current economic conditions.
Article continues below advertisement
Bond market not as optimistic as equity market
The 2-Year Treasury yield rose slightly on March 28, 2017, after the Republican Party's failure to replace The Affordable Care Act. However, the 10-Year yield curve hasn't moved much in the month. Since the beginning of March, the difference in yields between the 2-Year and 10-Year Treasury rates has fallen from 1.17% to 1.11% as of March 27, 2017.
A lower or flatter yield curve usually indicates that the bond market is less optimistic about the economy. A higher interest rate environment usually affects future inflation and economic growth expectations. Higher interest rates are expected to restrict inflation and reduce the general demand in the economy. Marks expects the Fed to gradually increase the interest rate to keep inflation within its target range.
Bond market bubble
The spread between the yields on corporate bonds (HYG) and comparable maturity Treasury securities (IEF) has also narrowed as of the end of March, indicating overvaluation in high yield bonds.
A narrow spread is usually not good for a high yield market, as it indicates elevated prices for high yield bonds. According to Marks, investors should be cautious when investing in the bubble of the high yield bond market.
Corporate high yield bond funds and related mutual funds include the Vanguard High-Yield Corporate Fund (VWEHX) and the Lazard US Corporate Income Portfolio (LZHYX). The latter invests in bond issues of companies such as Oneok Partners (OKE), Freeport-McMoRan (FCX), Wynn Las Vegas (WYNN), and Glencore (GLEN).