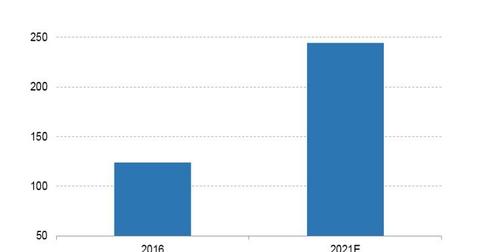 What Could Await Nokia in the Fitness Tracker Market?
By Ruchi Gupta

Apr. 4 2017, Updated 8:05 a.m. ET
Nokia ventures into the fitness tracker business
Nokia (NOK) has expanded its consumer electronics venture to include e-health products such as smart heart rate and exercise trackers in addition to its mobile devices. However, what is awaiting Nokia in the e-health industry? The industry is growing rapidly and attracting new players, but there are billions of dollars of potential revenue in it.
According to estimates by market research firm Mordor Intelligence, the e-health market could be worth $244 billion by 2021, growing from $124 billion in 2016. The chart above illustrates the growth projection.
Article continues below advertisement
Rebranding
In going for the billions of dollars in the e-health business, Nokia said it would rebrand the portfolio of connected health products it acquired through Withings. This initiative could make these products look like native Nokia products. 
The Nokia brand is popular and having the name in its range of e-health products can give the company a competitive edge. Besides rebranding Withings products, Nokia also intends to develop more e-health products to expand its portfolio of products in that segment.
Benefits of e-health
The e-health product line offers several benefits to governments, healthcare providers, and consumers. Connected health products are being used to expand and extend healthcare access and cut healthcare costs. For instance, a physician can administer treatment without the patient being required to come to the medical office or hospital.
As Internet access reaches more regions of the world, the e-health market should continue expanding. However, the growth of the e-health market could bring more competition. By venturing into the e-health industry with its fitness tracker products, Nokia has set itself on a collision course with Fitbit (FIT), Apple (AAPL), Microsoft (MSFT), and Nike (NKE).