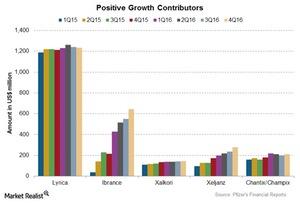 What Contributed to Pfizer's Growth in 2016?
By Mike Benson

Apr. 3 2017, Updated 10:41 a.m. ET
Understanding growth contributors
Previously, we discussed Pfizer's (PFE) segment-wise and geographical revenue trends. The key performers in its product portfolio include Lyrica, Ibrance, Xeljanz, and Eliquis from the Innovative Health business.
Article continues below advertisement
Positive growth contributors
The following products contributed to Pfizer's positive growth:
A 2.7% increase in total Lyrica revenues to $4.9 billion in 2016 as compared to $4.8 billion in 2015, primarily due to a 14% increase in sales of Lyrica IH offset by a 29% decrease in sales of Lyrica EH. Lyrica EH includes revenues from Europe, Turkey, Russia, Israel, and Central Asia, while Lyrica IH includes revenues from the rest of the world.
Ibrance, the new blockbuster drug to treat advanced breast cancer, was launched in February 2015, reported over 100% growth in revenues at $2.1 billion in 2016 as compared to $723 million in 2015 due to the strong response from the healthcare practitioners. The US markets reported Ibrance sales of ~$2.1 billion in 2016 as compared to $718 million in 2015.
BMP2 reported a growth of 8% in its revenues to $251 million during 2016 due to increased demand in the US markets.
Xalkori and Xeljanz achieved sales of $561 million and $927 million, respectively, during 2016. Xalkori's revenue grew 17% while Xeljanz's revenue increased by over 78% during 2016 as compared to 2015 revenues.
Chantix/Champix revenues rose 27% to $842 million in 2016 as compared to $671 million in 2015.
EpiPen, one of the key products of Mylan (MYL), contains drugs manufactured by Pfizer. Pfizer reported a 14% increase in EpiPen revenues to $386 million for 2016.
Medrol and Sulperazon sterile injectable products reported revenue growth of 16% to $450 million and 23% to $396 million, respectively.
Alliance revenues rose ~33% to $1.8 billion in 2016 as compared to $1.3 billion in 2015. Alliance revenues included Eliques and Rebif for 2015 and Eliques and Xtandi for 2016.
To divest the risk, investors can consider ETFs like the Guggenheim S&P 500 Top 50 ETF (XLG), which holds 2.0% of its total assets in Pfizer, 3.2% of its total assets in Johnson & Johnson (JNJ), 1.9% of its total assets in Merck (MRK), and 1.0% of its total assets in AbbVie (ABBV).