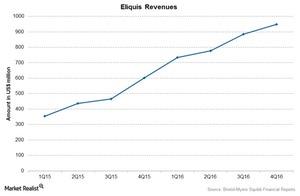 What Cardiovascular Drug Eliquis's 2016 Looked Like
By Mike Benson

Updated
The Cardiovascular segment
Bristol-Myers Squibb's (BMY) Cardiovascular segment consists of key drug Eliquis. The segment contributed nearly 17.2% of BMY's total revenue in 2016.
Article continues below advertisement
Eliquis
Eliquis is an oral inhibitor that targets stroke prevention in non-valvular atrial fibrillation and the prevention and treatment of venous thromboembolism disorders. Eliquis is part of BMY's alliance with Pfizer (PFE).
Eliquis is a new blockbuster drug from Bristol-Myers Squibb's portfolio. Its sales rose ~80% to $3.3 billion in 2016, compared to $1.9 billion in 2015. However, Eliquis was less profitable in the year, so it had a negative impact on the company's gross margin. Overall, Eliquis's sales were driven by its broad label uses as well as increased prescriptions from medical practitioners. BMY's operating expenses rose due to increased investments in drugs such as Eliquis to support continued growth.
Bristol-Myers Squibb is positive about Eliquis's growth prospects. It expects Eliquis and oncology drug Opdivo to be growth drivers over the next five years. Eliquis competes with drugs such as Johnson & Johnson's (JNJ) Xarelto and Boehringer Ingelheim's Pradaxa.
Other research and developments
BMY's cardiovascular research is focused on ongoing and significant unmet medical needs surrounding issues such as arrhythmia, atrial fibrillation, atherosclerosis, thrombosis, and heart failure. The company is also focused on the relationship between diabetes and heart disease. It's trying to develop a diabetes drug with cardiovascular benefits.
To divest risk, investors can consider ETFs such as the VanEck Vectors Pharmaceutical ETF (PPH), which holds 4.3% of its total assets in Bristol-Myers Squibb, 4.1% in Teva Pharmaceuticals (TEVA), 4.5% in Novo Nordisk (NVO), and 4.7% in Abbott Laboratories (ABT).