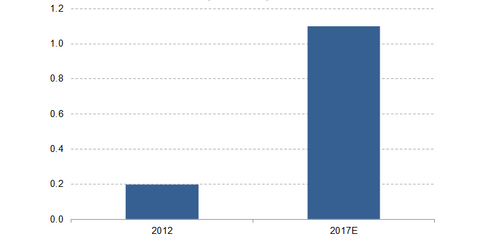 What Can Salesforce Achieve in Brazil?
By Ruchi Gupta

Updated
Customer experience spending
With research company Gartner estimating that ~50% of IT (information technology) spending in Brazil this year will be channeled toward improving the customer experience, Salesforce (CRM) has a reason to push for a broader presence in the country. The company has already created a business unit to specifically serve the Brazilian market.
Brazil's cloud computing revenue is expected to be $1.1 billion by the end of 2017, a sharp rise compared to $217 million in 2012, according to consulting company Frost & Sullivan.
The chart above shows a projection of Brazil's cloud computing market.
Article continues below advertisement
Brazilian companies are embracing technology for survival
Years of tough economic conditions have led Brazilian organizations to consider measures to help them operate more efficiently and make the most out of their customers. Salesforce is positioning itself as the answer to those corporate needs.
To differentiate itself from the competition such as Microsoft (MSFT), Oracle (ORCL), Adobe (ADBE), and IBM (IBM), Salesforce has been tapping startups in the AI (artificial intelligence), big data, and mobility spaces to help it strengthen its offerings. Such efforts could help the company to penetrate the Brazilian market more rapidly.
Courting local startups
Salesforce is also building relationships with Brazilian startups through the Brazilian Startups Association as part of its efforts to boost its business in the country.
The company is courting Brazilian startups at a time when startups in the country are receiving more investor funding and are becoming increasingly aware of the importance of investing in the customer experience, according to Daniel Hoe, Salesforce's marketing director for the Latin American region.
According to Hoe, smaller companies in Brazil are rapidly embracing cloud-delivered CRM (customer relationship management) solutions to help them stay competitive. This shift could be an opportunity for Salesforce.