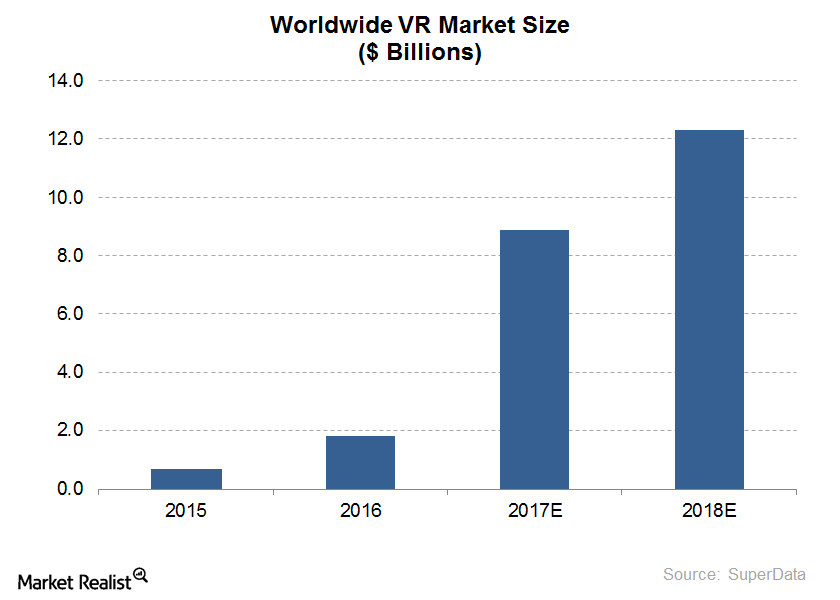 Was Facebook Too Early for the Virtual Reality Market?
VR revenue rises to $1.8 billion
Virtual reality (or VR) hardware and software sales reached $1.8 billion in 2016. About 6.3 million VR units were shipped in the year, according to market researcher SuperData Research. Facebook (FB), HTC, and Sony (SNE) are among the major brands that have dipped their toes in the VR waters. But if they hoped to make quick bucks with the move, they may have been ahead of the market.
The $1.8 billion in VR revenue suggests that the market is still small, and the figure fell short of expectations. At the beginning of 2016, SuperData Research predicted that VR revenues would hit $5.1 billion in 2016 from $660.0 million in 2015. Although the market more than doubled from 2015, its growth was slower than expected. The 2016 VR sales numbers seemed to spoil the fun for Facebook and other VR system vendors.
SuperData also predicted that the VR market would be worth $8.9 billion by 2017 and $12.3 billion by 2018. Seeing how the marked fared in 2016, those projections now look too optimistic.
The above graph depicts VR market projections.
Article continues below advertisement
Disappointing metric for diversification push
Facebook spent more than $2.0 billion to acquire Oculus in order to diversify into the VR market. Several Facebook executives, including CEO (chief executive officer) Mark Zuckerberg, have talked favorably about the future of VR, saying it could be as large as or larger than the smartphone market. However, that still seems far away, and if Facebook wants to rapidly grow its non-advertising revenue through VR sales, it may have to look for other opportunities.
Facebook is looking for new revenue streams as it faces growing competition from Twitter (TWTR), Microsoft (MSFT), and Alphabet (GOOGL) for advertising revenue.