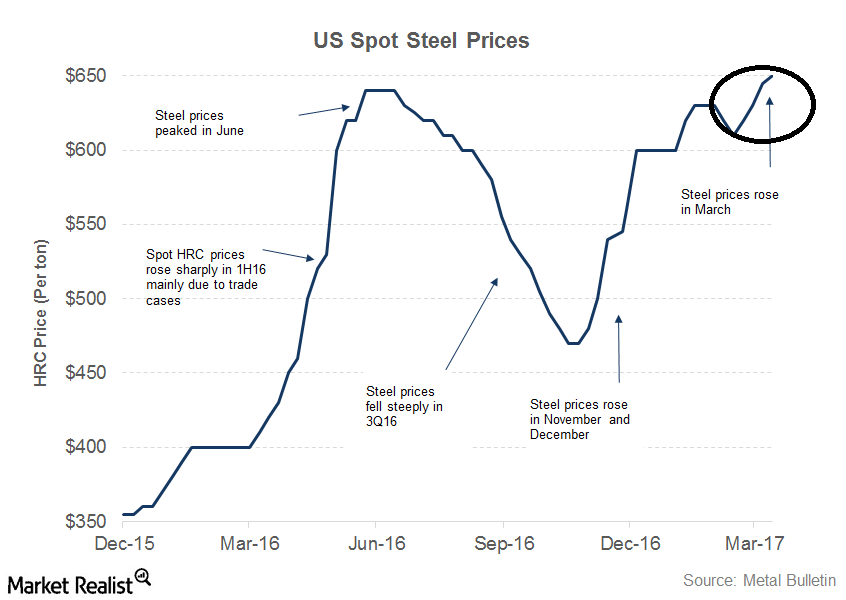 US Steel Prices Resume Their Upward March after February's Lull
US steel prices
Article continues below advertisement
2016 price action
According to the data compiled by Metal Bulletin, US HRC prices fell to $470 per ton in October 2016. However, we saw a significant recovery in prices in November 2016, with spot HRC prices reaching $540 per ton during the month.
Steel prices continued their upward trend in December, and spot HRC prices ended 2016 in the ballpark of $600 per ton. Spot steel prices saw some upward action in January 2017. However, prices came under pressure in early February.
March
After the initial lull in February, US steel companies (XME) such as AK Steel (AKS) pushed for price hikes. These price hikes seem to be holding ground for now. Spot HRC prices are now in the ballpark of $650 per short ton, their highest price level since October 2014. Spot CRC (cold rolled coil) prices are now at a five-year high thanks to the record HRC-CRC spread in the US markets.
The key question could now be this: Can US steel prices sustain these levels? To answer this question, we'll have to look at underlying demand-supply dynamics as well as the raw material pricing environment. We'll also need to look at the outlook for Chinese steel prices
Let's begin by looking at the current trend in raw material prices in the next article.