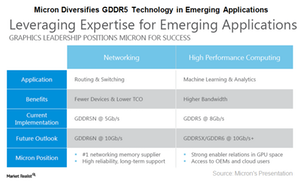 Understanding Micron's Strategy to Expand GDDR
By Puja Tayal

Apr. 3 2017, Updated 2:42 p.m. ET
Micron looks to leverage GDDR solutions
Micron Technology (MU) is adopting Nvidia's (NVDA) strategy of developing a standard architecture by leveraging technology across several end markets and making a few design tweaks.
Micron is looking to leverage the graphics GDDR5 solution that it developed in collaboration with Nvidia across multiple applications markets such as networking and the cloud.
Article continues below advertisement
Improved performance of graphics memory chips
Micron has been continuously improving its computing DRAMs—DDR3, DDR4, DDR5, and graphics DDR5—by improving bandwidth and clock speed. Its first GDDR5 had a clock speed of 4 Gbps (gigabits per second) per pin—a ~2.5x bandwidth benefit over a comparable DDR3 solution. The company improved the speed to 8 Gbps per pin, which is a 4x–5x benefit over a comparable DDR4 solution.
In 2016, in collaboration with Nvidia, Micron introduced GDDR5X, with a speed of 10 Gbps per pin—an improvement of about 25% in performance over GDDR5. Micron expects to launch GDDR6 later in 2017 or in early 2018. It expects to improve the speed to up to 16 Gbps per pin, about 2x the speed of GDDR5, by 2020.
The company is looking to enhance the performance and cost-effectiveness of GDDRs by applying 1x nanometer technology. It's also looking to leverage the enhanced performance of GDDR chips into other segments that demand higher performance.
GDDR solutions for networking
The networking applications demand higher bandwidth. By moving the networking solutions from DDR4 to GDDR chips, Micron can help customers reduce their bill of material without impacting performance. Notably, some of the highest volume switching and routing solutions use GDDR5N solutions, a GDDR5 technology tailored for networking applications.
GDDR solutions for the cloud
Meanwhile, Nvidia's Tesla GPUs (graphics processing units) are being increasingly used by cloud, high-performance computing, and enterprises for their machine learning tasks. Companies like Google (GOOG) and Facebook (FB) have deployed Nvidia's GPUs, which use Nvidia's GDDR5 solutions.
Intel (INTC) and Advanced Micro Devices (AMD) are also entering the AI (artificial intelligence) market with their FPGA (field programmable gate arrays) and GPU solutions. This provides more growth opportunities for Micron's GDDR5 solutions.
Next, we'll look at Micron's storage business unit.