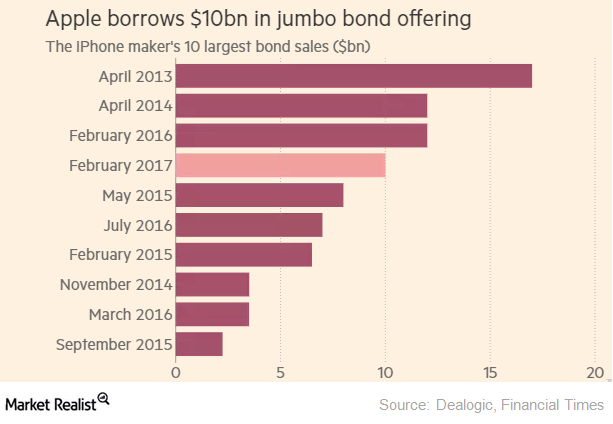 Understanding Investors' Response towards Apple's Bond Sale
By Anne Shields

Dec. 4 2020, Updated 10:53 a.m. ET
Apple continues its bond sale trend in 2017
Earlier in this series, we discussed how IBM had continued its trend of share buybacks, and how the IT (Information Technology) sector continued to be the top spender among industries.
In early February 2017, Apple (APPL) raised $10 billion in debt. The Financial Times, citing Dealogic estimates, stated that Apple has issued over $90 billion in debt since 2013, including ~$25 billion in 2016. As a result, it has become one of the biggest issuers of debt since it launched its share buyback and dividends program in 2012.
Article continues below advertisement
Sharing her opinion on Apple's $10 billion bond sale, which had initially aimed to raise $6 billion–$8 billion, DoubleLine portfolio manager Monica Erickson said that "The market has been very receptive to the new debt," adding Apple's bond sale was "beyond what anyone expected." DoubleLine is an asset management company.
Apple is not the only one to have resorted to the debt market. Microsoft (MSFT) and AT&T announced bond sales of $17 billion and $10 billion, respectively. Microsoft's bond sale is 2017's largest bond offering so far. There were also large bond issuances in 2016, led by Apple, Microsoft, and Oracle (ORCL). According to Dealogic, more than $185 billion has been raised so far by investment-grade groups in 2017.
Tech players pushed to resort to debt market
As most companies in the tech space get their revenue from abroad, their cash reserves are also held abroad. Due to a majority of their cash being parked outside the United States, they must resort to bond issuance to borrow for acquisitions, dividends, and buybacks. This position explains why, despite having significant cash, Apple and Microsoft have resorted to debt to fund their acquisitions, dividends, and share buybacks. However, this scenario is likely to change with President Donald Trump's (SPX) proposal to reduce tax on technology companies' overseas cash reserves.