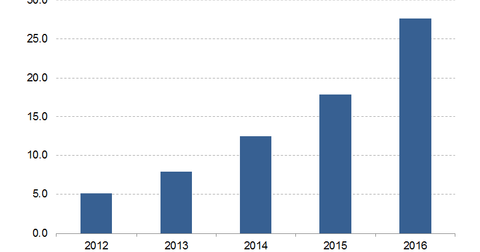 Understanding Facebook's Slow Growth Warning
By Ruchi Gupta

Updated
4Q16 revenue up 51%
Facebook (FB) has warned that the kind of revenue growth it's posted in recent quarters, such as 51% in 4Q16 and 56% in 3Q16, will be tough to come by in the coming years. In fact, the company has told investors to brace for a growth slowdown starting later this year.
Facebook reported revenue of $27.6 billion in 2016, a sharp rise from $17.9 billion in 2015. Let's take a look at its annual revenue trend.
Article continues below advertisement
Why the growth slowdown?
Facebook's growth slowdown warning stems from a planned shift in its advertising strategy. The company has revealed that its growth in recent years has been fueled by its practice of increasing the number of ads users see on their news feeds.
To avoid overcrowding the news feed with ads to the point of destroying value for users, Facebook has decided to stop its strategy of growing revenue by increasing ad load. Instead, the company has said that future growth will come from bringing more subscribers to the platform and encouraging them to spend more time there.
Disruption to revenue growth
Facebook's shift to a new growth model could be disruptive to its top line, which is why the company has warned of an impending growth slowdown.
To be successful in drawing more subscribers to its site and getting them to stay longer, Facebook is rolling out new features and adding more content. On the features front, the company recently added the Delegated Recovery tool, which enables GitHub users to quickly regain access to their accounts if they can't remember their login credentials. In terms of content, the company is investing in videos, including live video streams.
Facebook's aggressive video push is set to put it in tough competition with not only Alphabet's (GOOGL) YouTube, but also Netflix (NFLX), Amazon (AMZN), Apple (AAPL), and Twitter (TWTR).