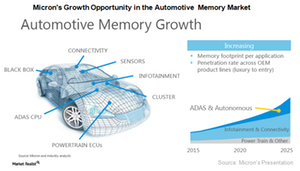 This Is Micron's Next Big Growth Opportunity
By Puja Tayal

Apr. 5 2017, Updated 7:36 a.m. ET
Automotive market attracts chipmakers' interest
Micron Technology (MU) is looking to expand into the automotive, industrial, and consumer markets. Among these, automotive appears to be the most lucrative market and has attracted widespread interest.
Intel (INTC) recently announced the acquisition of Mobileye (MBLY) to speed up its autonomous car efforts. Nvidia (NVDA) has already secured a contract from Tesla (TSLA) for its autonomous car platform, DRIVE PX2, which is equipped with Micron's GDDR5 memory. Meanwhile, the same growing investment by customers in the autonomous car space has opened several opportunities for Micron.
At the 2017 Analyst Day, Micron's Vice President for EBU (embedded business unit), Jeff Bader, listed seven areas where the company can supply its memory products as automotive moves toward autonomous.
Article continues below advertisement
ADAS
Jeff Bader stated that as the automotive market moves towards autonomous, the ADAS (advanced driver assistance systems) will likely grow more complex. ADAS will likely go beyond assistance toward making decisions. For instance, ADAS could go beyond lane departure and to lane-keeping systems, beyond forward-collision warning to forward collision avoidance systems, automatic e-braking, and parking assistance. Such features could be deployed in the Level I and Level II autonomous systems by 2018.
New laws would mandate the deployment of basic ADAS in every car, thereby increasing the ADAS market to include mid-end cars. Bader stated that connectivity and ADAS features are expected to be in 50% of cars on the road by 2020. The combination of the two would increase the memory footprint in these cars.
Article continues below advertisement
Sensor network
Bader also stated that the in-car sensor network is becoming denser as cars move toward ADAS. The sensor network, 3D maps, ADAS, would generate a tremendous amount of data, which would need to be collected, transferred, processed, and stored. This would create the demand for complex memory solutions. Intel and Micron have jointly developed 3D XPoint technology, which would assist in data analytics.
Infotainment and cluster
Infotainment fusion and cluster are increasing the number of display surfaces—the bigger the display, the more memory a car needs. But the real boom in the car market will likely come when fully autonomous cars hit the road. In such cars, things would go beyond sensor networks and ADAS to machine learning and inference. The data not only has to be collected by sensor and connectivity networks, but also has to be analyzed and acted upon, which requires deep learning.
For this reason, Micron is investing heavily in high-performance products for automotive. Specifically, it has collaborated with several OEMs (original equipment manufacturers), labs, and SoC (system-on-chip) vendors to develop autonomous car platforms by 2020.