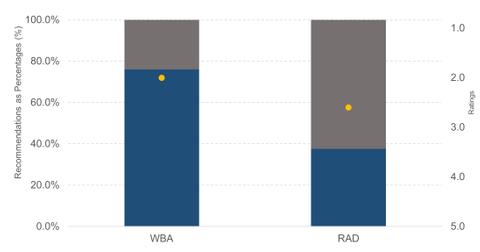 The WBA-RAD Merger and the 43% Fall in Rite Aid Stock
By Sonya Bells

Updated
Uncertainty of the merger is killing Rite Aid stock
Uncertainty over closing the proposed merger between Walgreens Boots Alliance (WBA) and Rite Aid (RAD) has been a kick in the stomach to Rite Aid shareholders. Rite Aid stock has fallen a whopping 42.8% year-to-date (YTD).
Fred's (FRED), which agreed to buy Rite Aid's divested stores, has also fallen 21.0% YTD. Walgreens, however, seems to be unaffected by the merger delay, and its stock has risen 2.3% to date.
As we saw in the previous parts of this series, the Walgreens-Rite Aid merger still hasn't obtained regulatory approval.
Article continues below advertisement
Can RAD and FRED stock rebound?
Wall Street is looking for a rebound in Rite Aid stock and Fred's stock. The two stocks are likely to rise 39.0% and 30.0%, respectively, over the next year.
Rite Aid stock, which is currently trading at $4.71, has a price target of $6.54. Walgreens has offered $6.50–$7 to Rite Aid shareholders.
Walgreens stock is likely to rise 12.0% over the next 12 months. It's trading at $84.63, which is 4.0% below its 52-week high price.
Wall Street's view on WBA and RAD
Walgreens is tracked by 25 Wall Street analysts. Together, they've rated the company a 2.0 on a scale of 1.0 for "strong buy" to 5.0 for "sell." In comparison, Rite Aid, which is covered by eight analysts, has been given a rating of 2.6, reflecting its not-so-strong fundamentals.
About 76.0% of Walgreens analysts are recommending a "buy" for the stock, and 24.0% are recommending a "hold." Only 38.0% are recommending a "buy" for Rite Aid, while the remaining are recommending a "hold." None of the analysts have recommended a "sell" for either company.
If you're seeking to add exposure to WBA or RAD, you could consider the First Trust Consumer Staples AlphaDEX ETF (FXG), which invests 5.1% of its combined portfolio in the two companies.