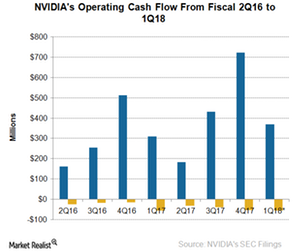 The Secret behind Nvidia's Strong Balance Sheet
By Puja Tayal

Updated
Nvidia's strong balance sheet
Nvidia (NVDA) is investing in the high-growth areas of AI (artificial intelligence), autonomous cars, and virtual reality and is ahead of Intel (INTC) and Advanced Micro Devices (AMD) to tap this growth. Nvidia's fabless model makes it a low capital expenditure business and helps it generate strong FCF (free cash flow).
Its technology advantage helps it charge a higher ASP (average selling price), generating strong cash flow. These factors help the company's balance sheet top Intel and AMD.
Article continues below advertisement
Cash flows
Nvidia's (NVDA) operating cash flow rose 67% sequentially to $721 million in fiscal 4Q17 as its operating income rose 14% and its accounts receivables declined.
In fiscal 2017, its operating cash flow rose 43% YoY (year-over-year) to ~$1.7 billion, of which it spent $176 million in capex. This increased the company's cash reserves from $5.0 billion to $6.8 billion. The company invested this cash reserve in interest-bearing securities. The higher average cash reserve increased its interest income 38.5% YoY to $54 million in fiscal 2017.
In September 2016, Nvidia raised new debt of $2 billion, which increased its interest expense 23.4% YoY to $58 million. Its total debt at the end of fiscal 2017 stood at ~$3.0 billion, equating to a net cash balance of ~$4.8 billion. None of its rivals have a net cash balance due to their high leverage. Intel and AMD have net debt of $4.5 billion and $170 million, respectively.
Nvidia doesn't intend to make any major acquisitions in the near future. It expects to spend on AI and autonomous cars, which may result in capex of ~$200 million in fiscal 2017.
Article continues below advertisement
Return to shareholders
Nvidia plans to use its free cash flow to give returns to shareholders. In fiscal 2017, the company returned $1 billion to shareholders—$261 million through dividends and $739 million through share buybacks. It plans to return ~$1.3 billion to shareholders in fiscal 2018.
Nvidia should be able to maintain its dividend growth in fiscal 2018, whereas Intel has stalled its dividend growth to invest in the business. On the other hand, AMD is still struggling to maintain positive cash flow.
Inventory
Nvidia's inventory almost doubled from $418 million in fiscal 2016 to $794 million in fiscal 2017 as its product portfolio expanded. It has significant architecture and several products for its architecture across its Gaming, Professional Visualization, Auto, and Data Center platforms.
Although Nvidia is fundamentally strong, some analysts are still downgrading the stock. Next, we'll see how analysts view Nvidia.