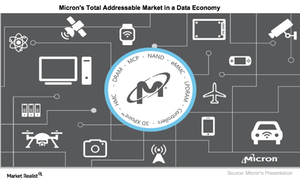 The Advent of Data Economy, and What It Means to Micron
By Puja Tayal

Updated
Data economy and Micron
Micron Technology (MU) rebounded from losses to profits at the end of fiscal 2016 and is now heading toward a strong fiscal 2017. At the 2017 Analyst Conference, Micron CEO (chief executive officer) Mark Durcan presented an optimistic future for the company driven by the advent of what is being referred to as the data economy.
Micron is not the only company undergoing a major transition to tap the data economy. Intel (INTC) and Qualcomm (QCOM) are also taking several bold moves to increase their exposure to the IoT (Internet of things), autonomous cars, and 5G.
Article continues below advertisement
Mark Durcan stated that memory would go beyond PCs and smartphones into IoT devices that would have sensors and connectivity. Each of these devices will likely generate huge amounts of data. Durcan estimates that 5,000 GB (gigabytes) of data would be created per person every year by 2020, and this will apply all over the world. This data will be generated across the globe, and the geographical environment of where the data is created, where it is processed, and who benefits from it will all change significantly.
Analytics boosts the need for memory
The role of memory will go beyond collecting and storing data to making it useful through real-time analytics. The increasing adoption of natural language AI (artificial intelligence) systems such as Google (GOOG) Home products will require memory inside the system and also inside devices with whom this functionality is being integrated. This will likely increase Micron's TAM (total addressable market).
Article continues below advertisement
Now, IoT devices need data analytics on a real-time basis, such as surveillance cameras feature motion detection, true gesture analysis, and threat detection. This requires analytics to be much closer to the data and much closer to the place of decision making. This also requires data to be structured and usable across various applications.
Changing memory landscape
All this is changing the memory landscape from a commodity product to a custom product. Previously, the memory landscape had revolved around PCs that had a processor, memory, and storage. Now, the broad range of end applications has created the need to work collaboratively with customers, understand end applications, and embed solutions with the support of collateral software. An example of such a solution is Micron's graphics GDDR5X memory, which it developed for Nvidia (NVDA).
As memory products become stickier and more customized toward end applications, the supply-demand balance is improving.
Keep reading this series for a deeper look into the future growth opportunities for memory in the data economy—and how Micron is placed to tap these opportunities.