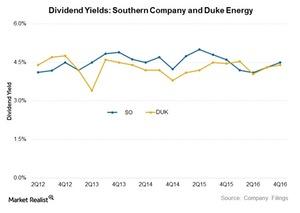 Southern Company and Duke Energy: A Dividend Yield Showdown?
Which yields the most?
Utility stocks are often referred to as "widow and orphan" stocks due to their relatively stable and safe dividends. Utility giants Southern Company (SO) and Duke Energy (DUK) are no exceptions. Among the top utilities by market capitalization, these two have healthy dividend profiles and premium yields. But which one is superior? To find this out, we'll have to compare their dividend profiles.
Southern Company and Duke Energy are currently trading at dividend yields of 4.4% and 4.1%, respectively—much higher than the industry average of 3.5%. Broader markets (SPY) (SPX-INDEX) are now yielding around 2%.
Article continues below advertisement
Historical dividend growth
Although Southern Company and Duke Energy have been paying stable dividends for the past several years, their dividend growth rates have been well below the industry average. In the past five years, Southern Company's dividend has grown by 3.6%, while Duke Energy's dividend has risen 2.5%, compounded annually. Interestingly, utilities at large (XLU) grew their dividends at just over 4% during the same period, compounded annually.
Now let's have a look at how these dividends are positioned going forward.