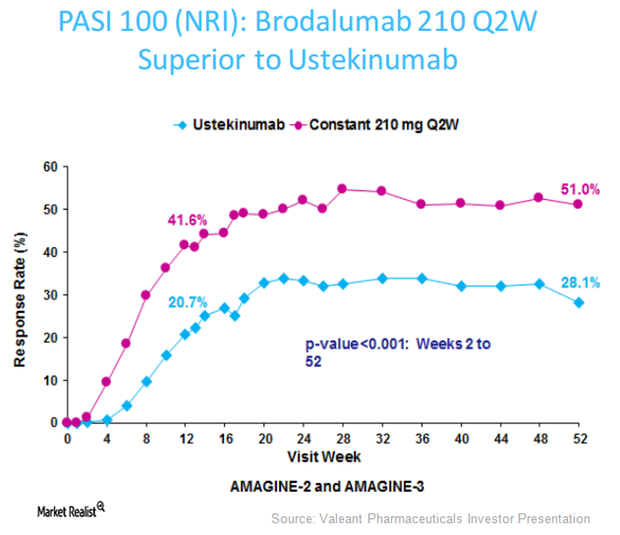 Siliq May be a Strong Growth Driver for Valeant in 2017
By Margaret Patrick

Nov. 20 2020, Updated 5:15 p.m. ET
Siliq growth trends
On February 15, 2017, the FDA approved injectable biologic therapy Siliq (brodalumab) as a treatment option for moderate-to-severe plaque psoriasis patients. Siliq is for psoriasis patients eligible for systemic therapy or phototherapy, and are not responding sufficiently or have stopped responding to these treatment options. To learn more about Siliq, please refer to What Are Valeant's Potential Growth Drivers?
Article continues below advertisement
Valeant Pharmaceuticals (VRX) has estimated that the total US psoriasis market will be worth around $7.0 billion in 2018. If this therapy manages to capture a significant portion of the growing psoriasis market, it may boost Valeant's share price and that of the First Trust Value Line 100 ETF (FVL). Valeant makes up about 0.88% of FVL's portfolio.
Siliq's efficacy
An efficacy and safety profile for Siliq was established in three clinical trials, where moderate-to-severe psoriasis patients were either administered the drug or a placebo. In the second and third trials, some patients were randomly administered Johnson & Johnson's (JNJ) Stelara (ustekinumab).
Based on the number of patients who achieved a 100% reduction in their Psoriasis Area and Severity Index score, Siliq has reported higher efficacy than Stelara. Siliq is expected to enable Valeant to compete with psoriasis players Novartis (NVS) and Eli Lilly and Company (LLY).
Unlike the majority of psoriasis drugs, which work by inhibiting pathways that result in the generation of interleukin -17 (or IL-17), Siliq works by binding with IL-17 receptors. Its different mode of operation is expected to result in improved and durable response rates from patients.
Siliq, however, is also associated with suicide and suicidal ideation. However, this is being managed through an ongoing REMS (risk evaluation and mitigation strategy). In the next article, we'll explore Valeant's efforts to boost revenue in 2017 in greater detail.