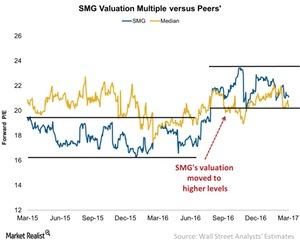 Scotts Miracle-Gro and Its Rising Valuation
By Adam Jones

Mar. 15 2017, Updated 10:36 a.m. ET
Valuation
In the second half of October 2016, following Scotts Miracle-Gro's (SMG) acquisition of American Agritech (or Botinacare), SMG's forward PE (price-to-earnings) ratio rose to 23.4x. It has since receded and is trading at 21.1x.
Article continues below advertisement
Trading above past levels
In the above graph, you can see that since July 2016, Scotts Miracle-Gro's PE ratio has trended higher. From March 2015 to July 2016, SMG traded between 16.0x and 19.8x. From July 2016 to the present, it has traded between 20.0x and 24.0x.
The upward revision in EPS (earnings per share), as we saw in the previous part of this series, led to higher PE ratios. Investors are paying more for the stock in anticipation of a higher return in the future. Let's compare its PE ratio with the peer median.
Peers and PE ratios
In the past, SMG's forward PE ratio has traded below the peer median. You can see in the above graph that SMG's peers are currently trading at a median forward PE of 20.3x. Peers include Home Depot (HD), one of SMG's major customers. HD is trading at a PE ratio of 20.4x. Lowes (LOW), which also sells Scotts Miracle-Gro products, is trading at a multiple of 17.5x.
Spectrum Brands (SPB), which caters to the same market as Scotts Miracle-Gro, is trading at 23.1x. Agrium (AGU), which has a large retail network of fertilizers (MXI) in the United States, is trading at 18.2x.
In the next and final part of this series, we'll look at analysts' price targets and recommendations for Scotts Miracle-Gro.