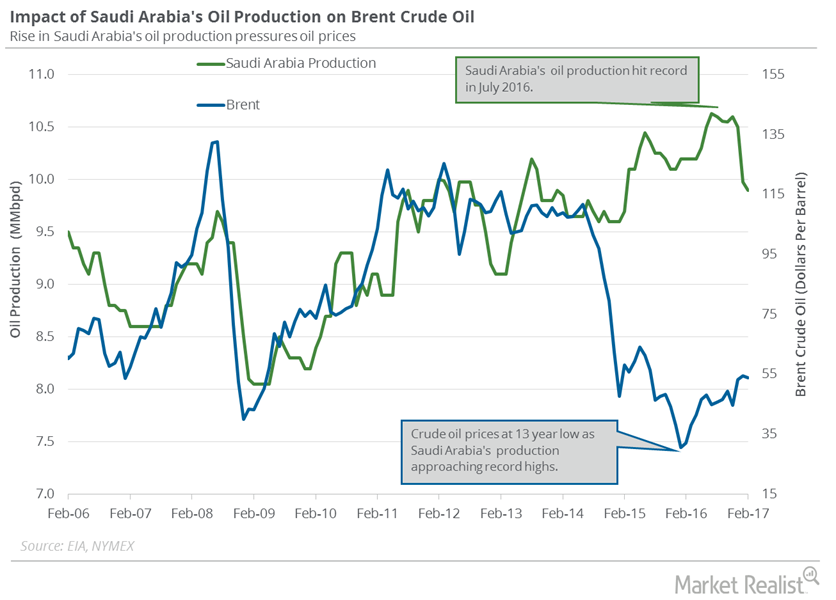 Saudi Arabia's Crude Oil Production Rose: Will Prices Fall More?
By Gordon Kristopher

Nov. 20 2020, Updated 4:09 p.m. ET
Saudi Arabia's crude oil production
Saudi Arabia is the largest crude oil producer among OPEC (Organization of the Petroleum Exporting Countries) members. OPEC released its Monthly Oil Market Report on March 14, 2017. Saudi Arabia reported that its crude oil production rose by 263,300 bpd (barrels per day) to 10.01 MMbpd (million barrels per day) in February 2017—compared to the previous month. The rise in Saudi Arabia's crude oil production is bearish for crude oil (BNO) (RYE) (SCO) prices.
The EIA (U.S. Energy Information Administration) estimated that Saudi Arabia's crude oil production fell by 80,000 bpd to 9.9 MMbpd during the same period. Production fell 0.8% month-over-month and 3% year-over-year. Production fell 7% from the peak of 10.63 MMbpd in July 2016.
Article continues below advertisement
Saudi Arabia and major oil producers' meeting 
In OPEC's meeting in November 2016, Saudi Arabia decided to reduce its crude oil production by 486,000 bpd from 10.55 MMbpd in October 2016. In January 2017, Saudi Arabia reduced its production by 564,000 bpd since October 2016—more than the market expected. However, a rise in Saudi Arabia's production in February 2017 could delay rebalancing in the market. As result, it pressured crude oil (RYE) (IXC) (XES) prices on March 14, 2017. For more on prices, read Part 1 of this series.
Lower crude oil prices have a negative impact on US oil and gas producers' earnings including ConocoPhillips (COP), Stone Energy (SGY), Cobalt International Energy (CIE), and Continental Resources (CLR).
Saudi Arabia's main concern is that while it would be the major contributor of a steep production cut, other players including US shale producers will reap major benefits from its sacrifice. When crude oil prices were lower in 2014 and 2015, Saudi Arabia produced more in order to capture market share and pressure high-cost producers out of the market.
Saudi Arabia's role as a swing producer will have a limited impact on crude oil prices due to the rise in crude oil production from non-OPEC producers such as shale-based producers in the US.
Crude oil prices
US crude oil prices are below their 200-day moving averages. A rise in US crude oil inventories, production, and the US dollar could pressure US crude oil prices to break below $45 per barrel in the short term. For more bearish drivers, read Part 1 of this series.
Read Will Crude Oil Prices Test 3 Digits Again? and Are Hedge Funds Turning Bearish on Crude Oil? for more on crude oil price forecasts.
Read What Can Investors Expect in the Crude Oil Market in 2017 for more on crude oil prices.
For more industry analysis, visit Market Realist's Energy and Power page.