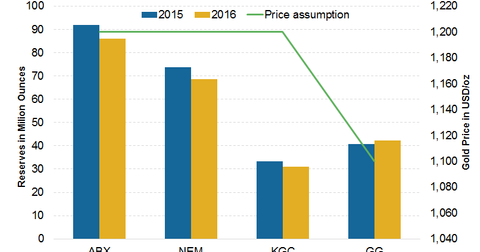 Gold Reserves Fell in 2016, But Will 2017 Be Any Better?
By Anuradha Garg

Updated
Reserve replacement
Gold miners (GDX) (GDXJ) face the problem of compensating for every ounce they take out of the ground. While mines have finite lives, companies operating them don't, so it's important to look at miners' reserves and resource estimates and the assumptions used to calculate them.
Goldcorp's (GG) objective is to increase its gold reserves 20% over the next five years. Goldcorp plans to increase its reserves from its existing portfolio. Its reserves at the end of 2016 totaled 42.3 million ounces.
Specifically, the company is aiming for a 20% rise to 50 million ounces net of depletion by 2021. To achieve this, Goldcorp plans to apply rigorous geological and economic criteria to prioritize targets.
Article continues below advertisement
Reserve declines
Barrick Gold (ABX) reported a 6.5% fall in reserves for 2016, which totaled 85.9 million ounces. While 1.9 million ounces were divested, 6.8 million ounces were depleted during the year. The company is using a gold price assumption of $1,000 per ounce for the next four years and a long-term gold price assumption of $1,200 per ounce from 2021 onward.
Newmont Mining (NEM) reported a 7% YoY (year-over-year) decline in its reserve estimates at 68.5 million ounces for 2016. The net revisions and additions led to an increase of 3.4 million ounces. On the other hand, depletions, divestments, and discontinued operations led to declines of 6.0 million ounces, 2.3 million ounces, and 0.3 million ounces, respectively. NEM maintained its gold price assumption of $1,200 per ounce to calculate its reserves.
Kinross's reserves
Kinross Gold (KGC) continues to use the gold price assumption of $1,200 per ounce to estimate reserves and $1,400 per ounce to estimate resources. Kinross's reserves were slightly lower at 31.0 million ounces at the end of 2016, as compared to 33.2 million ounces at the end of 2015. The fall in reserves is mainly due to the depletion across the company's portfolio and the reclassification of 0.90 million ounces.
The reserves for all the companies fell YoY in 2016. Exploration activity hasn't been able to cover the depletions during the year, and this is a concerning trend in the long term. However, as many industry participants believe, declining reserve replacements could support higher gold prices in the long run. Goldcorp, among these, has a plan to increase its reserves.
In the next part of this series, we'll look at the reserve grades for these miners and how they impact costs.