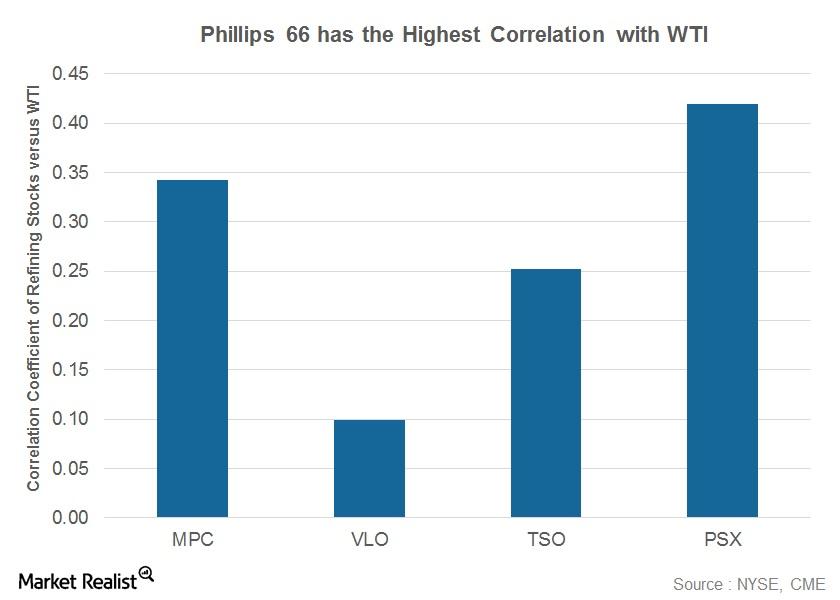 Refining Stocks and Oil Prices: Understanding the Correlation Coefficient
By Maitali Ramkumar

Nov. 20 2020, Updated 4:38 p.m. ET
What is correlation coefficient?
In this series, we analyzed stock price movements, dividend yields, short interest, implied volatility, institutional ownership, analyst ratings, and the valuations of the four top American refiners: Marathon Petroleum (MPC), Valero Energy (VLO), Tesoro (TSO), and Phillips 66 (PSX). In this part, we'll examine the correlation between these refining stocks and oil prices.
The correlation coefficient shows the relationship between two variables. A correlation coefficient value of zero to one shows a positive correlation, whereas zero states no correlation, and a -1 to zero shows an inverse correlation. Below, we've considered 12-month price history of four refining stocks as compared to the price of WTI (West Texas Intermediate) crude oil.
Article continues below advertisement
Refining stocks and oil prices
The correlation coefficient of Phillips 66 (PSX) and WTI stands highest among refiners at 0.42. The correlation value for PSX stock and the price of oil shows that the two variables have a positive correlation. This means that around 42% of the time, any movement in PSX stock price can be explained by changes in the price of oil. (For more on the likely direction of crude oil prices, please refer to Market Realist's "What to Expect from Crude Oil Prices in March 2017.")
By comparison, downstream peers Marathon Petroleum (MPC), Tesoro (TSO), and Valero Energy (VLO) show lower correlations of 0.34, 0.25, and 0.10, respectively, to WTI.
But when analyzing an integrated energy company, it's important to note that correlations to oil prices are higher for downstream companies. Royal Dutch Shell (RDS.A), an integrated energy giant, has a 0.61 correlation with WTI. This is because integrated energy companies have upstream operations also, along with downstream activities.
We should also remember that an upstream segment's earnings are directly impacted by crude oil prices. In a higher oil price scenario, upstream earnings constitute a major portion of integrated energy companies' earnings.
For indirect exposure to refining stocks, investors can consider the iShares Global Energy ETF (IXC), which has ~5% exposure to the refining sector.